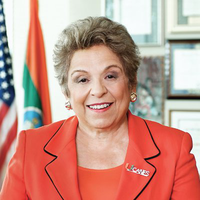 A national election of many firsts included this: among the more than 100 women who will serve within the new House of Representatives next January will be the first female Returned Peace Corps Volunteer (RPCV) to serve in Congress.
In Miami, Iran RPCV Donna Shalala secured just under 52% of the vote to win the open seat in Florida's 27th district. Shalala will join fellow RPCVs John Garamendi (Ethiopia) and Joseph Kennedy III (Dominican Republic) in the new, 116th Congress. Garamendi, representing California's 3rd district, captured 57% of the vote to win his sixth term in Congress. Kennedy, who ran unopposed in Massachusetts' 4th district, was re-elected Tuesday to his fourth term in office.
Three other RPCVs running for Congress were defeated in their efforts to unseat incumbents. In Ohio, 4th district Micronesia RPCV Janet Garrett and 15th district Morocco RPCV Rick Neal lost in races against incumbents Jim Jordan and Steve Stivers. Meanwhile in Utah, Moldova RPCV Shireen Ghorbani was defeated in her effort to unseat incumbent Congressman Chris Stewart.
Wolf Re-Elected
Tuesday night also saw the return of Tom Wolf to the Pennsylvania Governor's residence. The India RPCV was re-elected to a second term, winning nearly 58% of the vote.
Numerous other RPCVs ran for state and local office on Tuesday. Among those who were victorious were Panama RPCV Shenna Bellows, who was re-elected to the Maine State Senate. Just to the west in New Hampshire, Jamaica RPCV Matt Towne won an open seat in the state legislature.
Several RPCV lawmakers won election to state legislatures while running unopposed. They included newcomer Jon Santiago (Dominican Republic) in Massachusetts and incumbents Arthur Orr (Nepal) in Alabama and Jeni Arndt (Mozambique) in Colorado. Also in Colorado, Fort Collins State Senator John Kefalas (El Salvador) left his position and won election to serve as a Larimer County Commissioner.
Get Ready to Work
As we prepare our Peace Corps policy agenda for the next Congress, we will need your involvement as we also prepare for our 15th annual National Days of Action, starting on February 28th. Contact us today at advocacy@peacecorpsconnect.org so we can start planning for your participation!
---