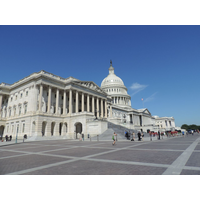 Returned Peace Corps Volunteer (RPCV) Congressman Mike Honda (El Salvador ) lost his re-election bid Tuesday night. Coupled with the upcoming retirement of Representative Sam Farr (Colombia), Peace Corps representation in Congress will be at its lowest level in nearly 40 years.
With all precincts reporting in California's 17th District, the Associated Press reported Honda lost to fellow Democrat Ro Khanna by 60% to 40%. This rematch from the 2014 elections was one of the most watched and expensive House races in the country. Honda served in Congress for eight terms. Read more here.
The two other incumbent RPCV members of the House of Representatives won re-election comfortably. In California's 3rd District, Congressman John Garamendi (Ethiopia) won his fourth term, securing 60% of the vote. On the opposite side of the country, Joe Kennedy III (Dominican Republic) won re-election to his third term representing the 4th District of Massachusetts, winning 70% of the vote.
Two other RPCVs seeking election to the House were defeated on Tuesday. In Michigan's 6th Congressional District, Paul Clements (The Gambia) was defeated in his second attempt to unseat incumbent Fred Upton. Meanwhile in Florida's 8th congressional district, Corry Westbrook (Eastern Carribbean) was also unsuccessful in her second bid to win a congressional seat, losing to incumbent Bill Posey.
---