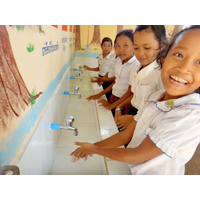 Want to continue making a global impact in a simple way? Through the Combined Federal Campaign (CFC), you can help Let Girls Learn in Peace Corps countries around the world!
The CFC is the largest workplace giving campaign in the world. During the past 55 years, federal employees have raised more than $8 billion through CFC to help organizations like National Peace Corps Association (NPCA) fulfill their missions by opting for automatic small contributions from each pay period.
For the 2017 Fiscal Year, CFC contributions to NPCA will directly benefit girls education and empowerment programs in partnership with Peace Corps and the First Lady's Let Girls Learn initiative. NPCA is making this opportunity available to federal employees through CFC to directly benefit projects implemented by Peace Corps Volunteers serving in the field.
NPCA's CFC Code #11708
The benefits of giving through the CFC (based on the 2016 CFCNCA Catalog):
1. You can give to multiple charities at once through a program that is federally regulated and fully audited.
2. Payroll deduction allows you to give a little each month, adding up to a significant gift at the end of the year.
3. Charities love the CFC because it keeps fundraising costs low, and the funds are unrestricted.
4. The campaign has a collective impact, allowing you to join with your co-workers to support those in need locally, nationally and globally.
Visit cfcnca.org and click the "donate" button to get started! Not a federal employee? You can still contribute to National Peace Corps Association through our campaigns.
---