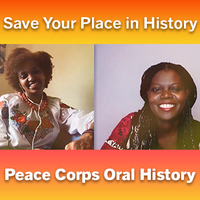 Help preserve the Peace Corps legacy
Trained volunteer interviewers with the Returned Peace Corps Volunteer Oral History Archives Project (OHAP) are ready to capture your unique Peace Corps story. Click here to sign up for your in-depth oral history video interview using a web-based digital platform. Consider launching an affiliate group oral history project as a fun and meaningful way to engage your members and further your mission. Visit the OHAP website for more information and contact Evelyn Ganzglass to explore options for affiliate partnership.
Now is the time to record your Peace Corps Story.
The Returned Peace Corps Volunteer Oral History Archives Project's (OHAP) volunteer interviewers are ready to conduct your oral history interview. Each person's Peace Corps story is unique and valuable for helping us understand who we are as individuals and how our experiences are integral parts of the 60-year Peace Corps legacy. Every Volunteer's experience matters, regardless of the outcome of their service. Some people may have had difficult experiences, and those are important to record as well. Here are examples of the kind of diverse stories people have contributed to OHAP's archives:
Patricia Ann Ryan (Thailand 1971–73) talks about being inspired to join the Peace Corps by President Kennedy and recounts stories about her daily life and travels in Thailand and Laos during the Vietnam War. Together with her husband John (Fiji IV) she later worked with Southeast Asian refugees in Thailand, the Philippines, and the U.S. Upon returning to the U.S., they became foster parents to two Cambodian boys and continued working with immigrants and refugees in resettlement and ESL language instruction for the rest of their careers.

Thomas Gouttierre (Afghanistan 1965–67) tells stories about coaching high school basketball while in Peace Corps and later coaching the Afghan national team, beating a visiting Chinese team and being written about in Sports Illustrated and Time magazine. His Peace Corps experience led to a career in international education and a life-long professional and personal connection to the people of Afghanistan.

Kelly Fitzgerald (China 2013–15) tells stories about living with a Chinese family during training and her life at Hexi University where she interacted with the city's large Muslim and Tibetan population. As a Volunteer, she tried to dispel people's misconceptions about Americans and strives to change Americans' attitudes about Chinese people.

James Kelly (El Salvador 1969–72) talks about having to be deeply closeted as a gay man, from completing the application form to the end of his service. His 1991 master's thesis contained strategies for Peace Corps and country offices to provide needed support to LGBTQ+ Volunteers, which Peace Corps shared with its offices around the world.

Florence "Kiki" McCarthy (East Pakistan 1961–63) discusses her service in a rural women's development project and her life-long work in this field, including serving as head of the women's section of the Bangladesh Ministry of Agriculture.

Andrew Reitz (Ecuador 1994–96) discusses his hectic experience as a just-graduated engineer serving as the county's director of potable water and the work he and his team did to install water systems in the region. He talks about his life and work in Ecuador since Peace Corps, and how raising his dual nationality children as "citizens of the world" has been his major contribution to achieving Peace Corps goals.

John Metzger (Kenya 1985–87) talks about his anti-war motivation to join the Peace Corps and securing funds from Catholic Relief Services for a four-stall women's shower as well as from the Peace Corps Partnership Program for the installation of solar power at a school, which had not had electricity before.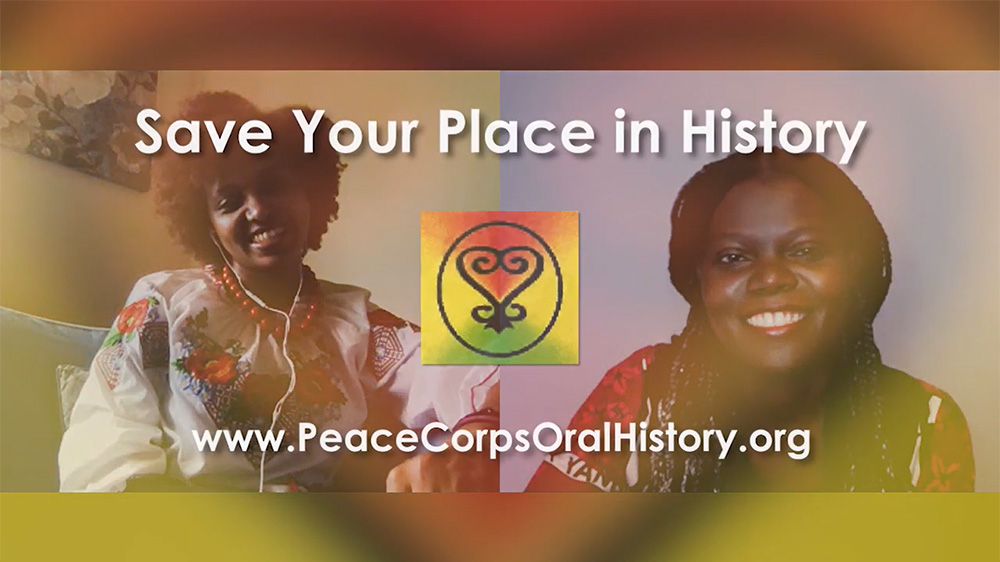 OHAP interviewers want to capture YOUR story. Click here to sign up to be interviewed remotely using a web-based digital platform. RPCV oral history interviews generally take one to two hours. They follow each person's Peace Corps path whether RPCV, EPCV, or staff. For Volunteers, they cover their motivation to join the Peace Corps; what on-boarding and training was like; what they did during their service; what their cross-cultural experiences were; and their reflections on the impact Peace Corps service had on them, on the communities in which they served, and on Americans' understanding of the world.
The exponential growth of interviewing during the last year means that there are no longer long delays or a waiting list for those who would like to be interviewed. Since June 2020, OHAP volunteer interviewers have conducted more than 550 video interviews with RPCVs, evacuated Volunteers, and Peace Corps staff. These are archived at the University of Kentucky Louie B. Nunn Center for Oral History, and about 800 audio interviews — conducted between 1990 and 2019 — are archived at the John F. Kennedy Presidential Library and Museum, National Archives and Records Administration.
Preserving the Peace Corps legacy is a great activity for individuals and for NPCA affiliate groups. Geographic, country of service, or cause-based community affiliate groups can support the OHAP mission by:
Urging your members to sign up to be interviewed. You can use the following language as a notice in your newsletters: The Returned Peace Corps Volunteer Oral History Archives Project (OHAP) invites Returned and Evacuated Peace Corps Volunteers, and U.S. and [Country of Service] Peace Corps staff to tell their unique Peace Corps stories through in-depth oral interviews. Interviews are conducted remotely by RPCVs using a web-based digital platform. Interviews average one to two hours. Video interviews are archived for public access at the University of Kentucky Louie B. Nunn Center for Oral History. Please visit the OHAP website for more information and sign up here if you'd like to be interviewed. OHAP volunteers will connect you with a trained interviewer.
Encouraging your members to become interviewers or indexers for the project. Indexers listen to interviews and provide time stamp outlines of the interviews and geolocate places mentioned. The OHAP and Nunn Center teams provide training and support for both roles.
Creating your own oral history project to engage members and further your mission. Several affiliates have done this by designating a coordinator to engage fellow members in the process. Oral history interviews can be organized as on-going activities, around reunions and special anniversaries, and as a follow-up to storytelling events. Examples of recent uses of oral history interviews include:
Violet Esipila (Ukraine 2017–20) and Peggy Walton (Ukraine 1994–96; 2013–16) are conducting oral history interviews with fellow RPCVs and host country counterparts as part of the 30th anniversary of Peace Corps in Ukraine.

Friends of Fiji and RPCV New Jersey used the 18-minute Many Faces of Peace Corps video produced by OHAP and the Museum of the Peace Corps Experience as the anchor for a discussion about diversity, equity, and inclusion in the Peace Corps. The video contains clips from interviews with Volunteers and staff, from groups under-represented in the Peace Corps, who volunteered to talk about their unique experiences. Questions you might want to use to stimulate discussion are also available on the OHAP website.

Cedar Wolf (Namibia 2006–08) is using interview clips to produce a short video exploring how the Peace Corps has dealt with the issue of decolonization since its inception. The video will explore how effective the Peace Corps has been at meeting its Three Goals and ask the question, "What is the true value of Peace Corps service?"

Olivia Donaldson (Benin 2001–03), director of the International & Global Studies program at the University of Maine at Farmington, worked with her undergraduate students to produce a digital exhibition, Departures: Peace Corps Pandemic Stories, about Covid-19 and the Peace Corps, and more broadly, the various meanings of departure. The students produced a video using clips from OHAP oral histories of EPCV's and collected personal statements from interviewees on what they have been doing since the evacuation. The students also produced an activity guide that includes links to OHAP, the Museum of the Peace Corps Experience, Peace Corps, and National Peace Corps Association.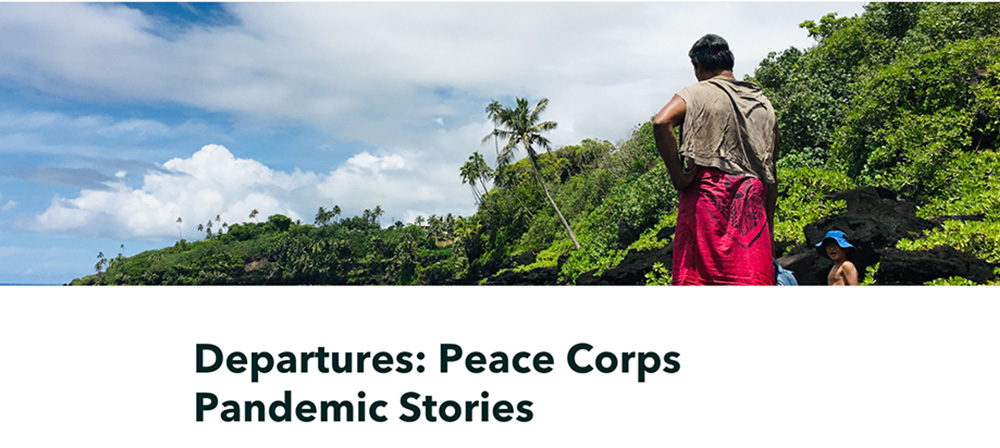 Please contact Evelyn Ganzglass if you have any questions.
---