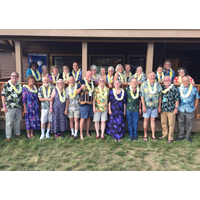 Author: RPCV Glenn Blumhorst
One of the best parts of my role as NPCA president is to attend the reunions of Returned Peace Corps Volunteers (RPCVs), former staff, and host country nationals that are occurring across the country on a regular basis. I especially relish the opportunity to share in the reminiscing, storytelling, and camaraderie of these groups as they strengthen the bond that binds us as a Peace Corps community.
Reunions are also a great place for me to share updates on the Peace Corps agency - country program openings and closures, budget concerns, or the impact of the new recruitment system. I've also found reunion attendees eager to reconnect to the broader Peace Corps community and get involved in the causes we are collectively championing - from advocating for the Peace Corps to advancing the Third Goal.
This year, I've attended dozens of reunions around the country - Ceylon II, Ethiopia X, Kenya Ag, Tanganyika I and II, and Micronesia 7, to name a few. Groups like Friends of Korea and Friends of Honduras have held multi-day conferences, drawing hundreds of RPCVs and featuring a variety of activities from panel discussions to lake cruises, from embassy receptions, to mountain hiking. And there's always plenty of great host country food, like the wat and injera - accompanied by Charlie Sutton playing the mesenko - with Ethiopia X RPCVs gathered at the Ababa Restaurant in Washington, DC.
NPCA is pleased to offer support to groups that are planning a reunion:
Trying to contact RPCVs from your group? NPCA can help find them, drawing on our extensive database.

Wanting to get the word out to RPCVs from your country of service? NPCA will promote your reunion to the contacts in our database.

Looking for a venue? NPCA offers modest conference space in Washington, DC, and can help secure discounted space in places like YMCA of the Rockies in Estes Park or Hostel International in New York City.

Want help planning? NPCA will connect you to other reunion organizers and lessons learned / best practices gleaned from their experience.
I'll rarely turn down the opportunity to spend a few days with RPCVs at your reunions, wherever and whenever you might be gathering. I'm honored to be included in reunions and look forward to receiving your invitation!
Interested in having me join you at your reunion? Contact me at Glenn@peacecorpsconnect.org.
---
About the Author
Glenn Blumhorst is President and CEO of National Peace Corps Association (NPCA). He was a Peace Corps Volunteer in Guatemala from 1988 to 1991.
---