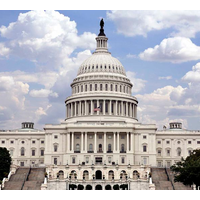 For the second consecutive year, the U.S. House of Representatives has before it legislation aimed to improve several key aspects of health care support for Peace Corps Volunteers (PCVs) in the field, and Returned Peace Corps Volunteers (RPCVs) struggling with service related illness and injuries.
The bi-partisan legislation was introduced by Congressman Ted Poe (R-TX) and RPCV Congressman Joseph Kennedy III (D-MA). Its provisions propose to strengthen medical officers and medical facilities around the world, extend Peace Corps' ability to provide medical services to six months for volunteers who come home with service related injuries or illness, increase payments for RPCVs who are disabled and unable to work due to service-related conditions, extend certain oversight and support provisions for survivors of sexual assault, provide changes that will allow the agency to further comply with Centers for Disease Control recommendations concerning anti-malarial medications, and provide further reporting and reforms to improve oversight, management and efficiency of the Peace Corps.
Lead Sponsors Speak
Representative Poe, who introduced similar health legislation in the previous Congress, was also the lead sponsor of the Kate Puzey Peace Corps Volunteer Protection Act, which was signed into law in early 2012. "When young American Peace Corps volunteers head overseas, they must know that the U.S. government has their back," said Representative Poe. "In 2011, Congress took a historic step in passing the Kate Puzey Peace Corps Volunteer Protection Act, but there is more work to be done. This bill will go even further to both keep volunteers healthy and to ensure that those who have experienced sexual assault have the assistance and protection that they need."
"Wearing the Peace Corps badge around the world, volunteers export the shared values that make us strong and leave a positive impact that remains long after they return home," said Congressman Kennedy, who served with the Peace Corps in the Dominican Republic from 2004 - 2006. "I am deeply grateful to my colleague, Congressman Ted Poe, for his continued advocacy for an organization so near and dear to my heart."
Follow this link for the joint press release issued by Congressmen Poe and Kennedy.
Legislative Priority
Along with funding for the Peace Corps, the need for health legislation has been a priority during the past three Capitol Hill advocacy days organized by the National Peace Corps Association in March and September of 2016, and March of 2017. Several key provisions of the legislation came due to the efforts of Health Justice for Peace Corps Volunteers (an NPCA affiliate group) and the parents of Nick Castle, whose sudden death early in 2013 led to an investigation that found failures and delays in his treatment. The Peace Corps has also worked closely with congressional staff to bring forth this legislation.
The bill - named in honor of recently retired RPCV Congressman Sam Farr - will be House Bill 2259 (H.R. 2259). Read the bill. Similar legislation is being worked on in the Senate but has not yet been introduced.
Take Action!
Follow this link to urge your Congressman/woman to become a co-sponsor of H.R. 2259.
In conjunction with its third annual "Health Justice Awareness Day", NPCA will be organizing a Capitol Hill advocacy day on June 22nd to build support for Peace Corps health legislation. If you are interested in participating in this advocacy event, contact us at advocacy@peacecorpsconnect.org.
---