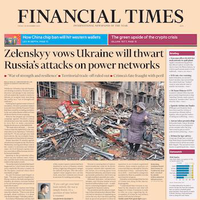 Two returned Volunteers who served in Ukraine now play key roles as journalists reporting on that country.
By NPCA Staff
Sabra Ayres (Ukraine 1995–97) was named chief correspondent for Ukraine at the Associated Press (AP) in September. She manages and coordinates AP's coverage of Ukraine, including text, photography, and video storytelling. Ayres has nearly two decades of reporting that covered U.S. state and national politics, international relations, and developing democracies—with bylines from Ukraine, Russia, Afghanistan, Europe, and India.
Christopher Miller (Ukraine 2010–12) has joined the Financial Times as Ukraine correspondent. He has previously covered Ukraine for Politico, BuzzFeed News, and Radio Free Europe/Radio Liberty. As a Volunteer, Miller served in the city of Bakhmut, which has been devastated by a months-long Russian offensive.
---
This updated appears in the Winter 2023 edition of WorldView magazine.
---