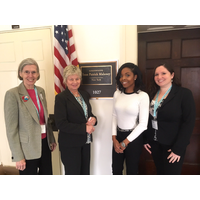 The power of the Peace Corps lies within you.
The individual Returned Peace Corps Volunteer (RPCV) with a story to tell about how Peace Corps transformed so many lives - including their own.

The former Peace Corps staff member who knows the intricacies of operating an agency that has serviced more than 225,000 volunteers.

The leaders of National Peace Corps Association affiliate groups whose dedication to ongoing service and bringing the world home is central to their mission.

The Peace Corps applicant who desperately hopes to be part of this iconic symbol of the United States at its best.
For all of you, the time is coming for you to personally tell Congress about the power of the Peace Corps!
During NPCA's National Days of Action in Support of the Peace Corps we're holding our annual Capitol Hill Day of Action on March 1, 2018. With supply and demand for volunteers skyrocketing, communities all over the world in need, people-to-people relationships increasingly critical, and an RPCV healthcare bill in need of passage, we need to tell America's lawmakers to prioritize Peace Corps funding and legislation.
There's no reason to delay. Register here for the Capitol Hill Day of Action!
Please share this message with your Peace Corps friends and other supporters who want to join us on March 1st. Come to lobby for peace and—as many others do—use the rest of your time in our nation's capital to see the sights, connect with friends, or schedule a reunion for your Peace Corps cohort!
Capitol Hill Day of Action kicks off NPCA's annual Shriver Leadership Summit weekend. Interested in attending? Learn more.
Can't join us in Washington? We still need you! Contact us at advocacy@peacecorpsconnect.org and make plans to organize a Day of Action solidarity event in your hometown on/about March 1st!
---