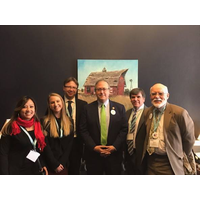 As the National Peace Corps Association prepares for its third annual Health Justice Awareness Day on June 22nd, a key component of the day will involve Capitol Hill.
With new Peace Corps health legislation introduced in the House of Representatives, and similar legislation anticipated in the Senate in the future, we are preparing for Capitol Hill advocacy on this legislation on the afternoon of June 22nd.
Registration for our Capitol Hill advocacy day is now underway. If you plan to join us, follow this link to register.
The deadline to register will be Sunday, June 18th.
Follow this link to read the legislation (H.R. 2599).
Follow this link to urge your Congressman/woman to co-sponsor this legislation.
Support NPCA advocacy efforts with your donation here!
Photo: Congressman David Young (R-IA), pictured here meeting with NPCA advocates this past March, co-sponsored Peace Corps health legislation in 2016.
---