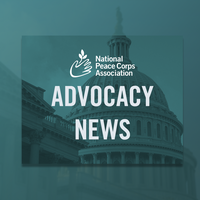 With a new federal fiscal year underway and Congress yet to determine if Peace Corps funding will get an increase or continue to remain stagnant, it may seem strange to be turning any attention to the next budget cycle. But within the executive branch, staff at the Office of Management and Budget are hard at work preparing their recommendations for Congress for the 2021 Fiscal Year budget, which the president will present to Congress early next year.
Since 2013, NPCA has responded by seeking the assistance of our affiliate groups to bring the voice of the Peace Corps community to the White House. This is done in the form of an affiliate group sign-on letter urging the president to request strong funding for the Peace Corps.
Affiliate group leaders responded forcefully this year, 124 group representatives signed the letter, representing more than 68,000 of their members. That's a new record, surpassing the 115 group signatures collected in 2013.
This year's letter highlights the announcement made earlier this year to begin a program in Montenegro, and points to the ongoing desire from foreign countries to establish or increase Peace Corps programs. It highlights Peace Corps' significant role in supporting the Trump administration's Women's Global Development and Prosperity Initiative. At the same time, it also expresses disappointment that the president's previous three budget requests have called for Peace Corps funding cuts, a presidential recommendation not seen in over four decades.
You can read the annual NPCA affiliate group letter to the president here.
Our thanks to the many affiliate groups and leaders who joined together in common cause.
---