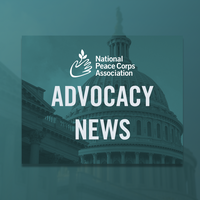 A record-breaking 180 members of the House of Representatives signed the Peace Corps Funding Dear Colleague Letter, encouraging their colleagues to support Peace Corps funding! This bipartisan letter additionally hosts a record 13 signatures from House Republicans (versus nine House Republican signatures last year).
Our advocates have played a vital role in the success of the Peace Corps Funding Dear Colleague Letter. Over the last few weeks, many proponents have spent hours organizing and contacting legislators to lobby for support. NPCA is grateful for the dedicated efforts by our community that contributed to the submission of the Peace Corps Funding Dear Colleague Letter.
The letter, authored by Representatives John Garamendi (D-CA), Garrett Graves (R-LA), and Joe Kennedy (D-MA), was dispersed to Chairman Hal Rogers (R-KY) and Ranking Member Nita Lowey (D-NY) of the House Subcommittee on State, Foreign Operations, and Related Problems requesting a $410 million appropriation for Peace Corps in FY2019.
With this level of funding the agency should be able to sustain the sending of approximately 3,400 new volunteers a year to serve. As the letter stated, "Today, approximately 7,000 Volunteers serve in 64 countries to train, elevate, and inspire the next generation of global leaders." These volunteers are fundamental representatives of our nation around the world. Supporting Peace Corps Volunteers is a cost-effective investment to address international issues. From combating infectious disease outbreaks to helping combat poverty through education, Peace Corps volunteers undertake pressing intersectional issues in innovative ways. Further, these volunteers return to the United States with unique skills that enrich their human capital in a competitive workforce.
---