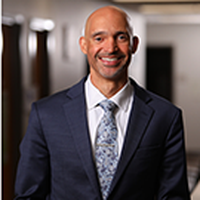 Awards for two members of the Peace Corps Community
Photo: Maurice Lee, recipient of the Robert Wood Johnson Foundation Award for Health Equity
By NPCA Staff
Maurice Lee

| Ecuador 1996–99
Maurice Lee was recognized with the Robert Wood Johnson Foundation Award for Health Equity for his work with St. Vincent de Paul's Virginia G. Piper Medical and Dental Clinic in Phoenix, Arizona. Lee is chief medical officer and medical director there; he also founded the Arizona Safety Net, a collaboration among more than 40 Phoenix-area free and low-cost clinics aimed at improving health equity for Arizona's uninsured. The award has been presented by the National Association of Free and Charitable Clinics since 2016.
Bennett VanOudenallen |

Guatemala 1999–2000
Bennett VanOudenallen received the GRAMMY Museum's 2021 Jane Ortner Education Award, a prestigious honor recognizing K–12 teachers who use music as an academic tool in the classroom. Over the past 13 years, VanOudenallen has taught social studies at Mount Notre Dame High School in Cincinnati.
What moves him? "I love guiding students through the deconstruction of music's — specifically my personal passion, the banjo's — current stereotypes in order to build a deeper understanding of all the complex and blended elements that lead us to the depth of variety that music offers today."
---