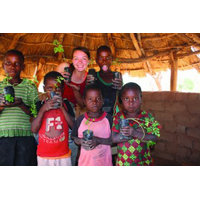 The Community Fund: Perpetuating a Lifelong Commitment to Peace Corps Ideals
At National Peace Corps Association (NPCA), we understand the impact Volunteers make in host communities, as well as those host communities make upon Volunteers. Both resonate for decades. The Community Fund thrives on sustaining that relationship and impact.
An example are Camillia Freeland-Taylor's (Zambia 2013-15) efforts to support the children of her village, Magalela, who must walk nine miles and cross two rivers to attend school. Many families do not allow their girls to attend because of the two-hour walk. During Camillia's service, a first grade boy drowned on the journey.
The village children need a local primary school to ensure their basic human right to education. Camillia worked both during and after service to meet this need.
The grant she originally received as a PCV provided the amount necessary to lay the foundation of the school. As an RPCV, Camillia sought out NPCA to purchase cement and other building materials to complete the project by plastering the school's walls, finishing the floors, building latrines, and fitting windows with glass. The Zambian government will then provide teachers.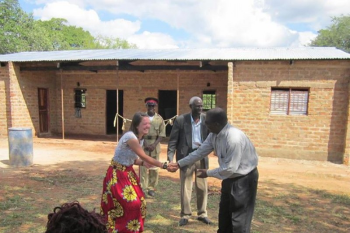 "It's good to have a school because our children won't have to walk so far (usually six-eight kilometers one way), and they don't have to worry about crossing the river during the rainy season, which is extremely dangerous. Right now we have no choice, but we are trying to change that through the new school" says Jethrow Siatubi, Magalela Village Head.
Education has a compounding effect, and the result of allowing an entire community of children access to a primary education is profound. Studies show that with each additional year of education, an individual will earn more as an adult and prevent extreme poverty. Moreover, women who receive a primary school education are less likely to lose children in the first five years of the child's life.
"I remember one time I went to the hospital and they gave me the wrong medicine. If I wasn't educated I wouldn't have been able to tell the medicine was meant for someone else and for a different problem. I was able to do so because of education. I want my children to have a better education and a chance at a brighter future" remarked Julius Simombeh, a school committee member.
How To Contribute: Camillia's project is being funded under Girls Education and Empowerment Campaign, give today to help this community finish their preschool!
---