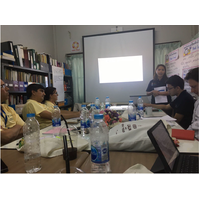 NPCA, in partnership with Northeastern University's Cultural Agility Leadership Lab (CALL), has created new opportunities for returned Peace Corps volunteers, while bringing private sector expertise to strengthen the capacity of local humanitarian development organizations in Thailand and other countries. The partnership matches RPCVs with skills-based corporate volunteers from Cigna, a global health service company, to deliver technical assistance to local NGOs, while also enhancing the cultural agility of the corporate volunteers.
For the past three years, Cigna has sent its rising leaders to Indonesia and Thailand through CALL to learn from and understand more on the health care needs of the Indonesian and Thai people. Cigna and CALL interact with health care at many levels including the villages, government, and private hospitals, as well as healthcare NGOs throughout the country. This year, the ITLP program worked in Chiang Mai with various NGOs under the umbrella of the Raks Thai Foundation, focusing on health populations including HIV/AIDS, drug-user groups, refugee and migratory groups, and youth development groups.
Joel Saldana (RPCV Thailand 2012-2014), a second year RPCV participant in the program, shared his thoughts. "It's been a great opportunity to work with Americans from the corporate world who are trying to learn about Thai people. It's most fulfilling to have the 'aha' moments when you have that meaningful exchange through food, smiles, or a simple greeting," Joel is one of three RPCVs who accompanied nine Cigna skills-based volunteers on their short-term assignments in Thailand. RPCVs serve as cultural coaches and also provide technical guidance and support to the work undertaken.
Joel observed that "Cigna is putting their money where their commitments are—in developing a workforce that is ready to take on global challenges, is culturally agile, and is attempting to understand a little part of the world." Cigna participants work with their assigned NGOs to help scale their success in program management, operations, or project solutions. In a very short time frame, they learn how to work with Thai people, understand the organizations needs, and assist with their challenges.
NPCA envisions expanding the program to eventually field over 100 corporate volunteers in multiple countries, particularly linking them to NGOs where PCVs or RPCVs are involved. Forthcoming projects will field RPCVs and corporate volunteers from Johnson & Johnson on short-term assignments in Peru, Mexico and Guatemala.
For more information, please contact our International Programs division: CALLCoordinator@PeaceCorpsConnect.org.
---