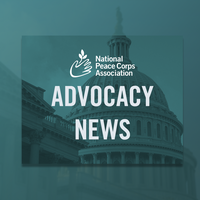 For the third consecutive year, President Trump is recommending a reduction in funding for the Peace Corps. The president's request of $396 million for the agency in Fiscal Year 2020 would represent a slightly more than three percent cut in funding.
It has been more than 35 years since a president has proposed consistent cuts in Peace Corps funding to Congress.
"It is disappointing that the President has recommended this cut in Peace Corps' funding, especially as the number of citizens applying for Peace Corps service continues to be far higher than the number of available positions," said National Peace Corps Association (NPCA) President and CEO Glenn Blumhorst. "Thankfully, Congress has spoken with a bipartisan voice to reject such cuts in the past. We hope they will do so again."
The proposed reduction in Peace Corps spending was part of a much larger 24 percent cut to the nation's International Affairs Budget. The US Global Leadership Coalition (USGLC) called those level of cuts "dangerous and disproportionate." Read the full USGLC statement here.
Taking Action for a Funding Increase
On February 28th, 125 NPCA advocates traversed Capitol Hill to meet with congressional offices and recommend $450 million for Peace Corps for the fiscal year that begins next October 1. Peace Corps has been operating for the past four fiscal years with a budget of roughly $410 million.
Nearly 1,000 messages have been sent to Congress so far during NPCA's National Days of Action.
Tell Congress to support strong Peace Corps funding and promote other pending legislation.
Contact william@peacecorpsconnect.org if you want to assist with upcoming advocacy mobilization concerning funding for the Peace Corps.
---