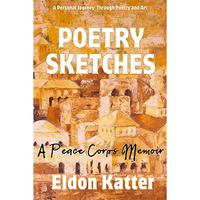 POETRY SKETCHES
A PEACE CORPS MEMOIR
By Eldon Katter
Peace Corps Writers
Reviewed by Kathleen Coskran
Eldon Katter sketches with images and words alike. He had the foresight to chronicle his time with the first group of Peace Corps Volunteers in Ethiopia (1962–64) through short poems and drawings — both his and his students'. He had the fortune to be assigned to teach in Harar, Ethiopia — one of the oldest continuously inhabited cities in the world, the only walled city in Ethiopia, and now a World Heritage Site.
I don't think many subsequent Volunteers received an engraved invitation from His Imperial Majesty Haile Selassie I, but Katter did: for a dinner at the Messerate Palace on October 13, 1962, featuring French wine and Italian pastries.
This review appears in the Spring-Summer 2022 edition of WorldView magazine. It is excerpted from a review that originally appeared on Peace Corps Worldwide.
---
Kathleen Coskran served as a Volunteer in Ethiopia 1965–67.
---