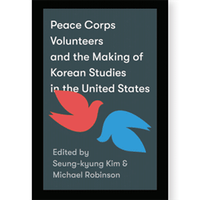 Peace Corps Volunteers and the Making of Korean Studies in the United States
Edited by Seung-kyung Kim and Michael Robinson
Center for Korea Studies, University of Washington
Reviewed by Steven Boyd Saum
The Peace Corps sent more than 2,000 Volunteers to South Korea 1966–81, to teach English and advise on healthcare. "Their experiences affected their worldview, individual politics, aesthetic sensibilities, and views on gender discrimination," notes the introduction to this anthology. Those experiences also fueled scholarship on Korea in the States. A small yet significant number of the Volunteers returned to the U.S. and entered academia, forming the core of a second wave of Korean studies scholars.
This volume includes essays by 11 individuals, nine of them returned Volunteers. Years in an impoverished nation still recovering from war — and in which authoritarian regimes sometimes brutally oppressed democratic uprisings — influenced their work: from studies in history, culture, and politics to literary translations and work with Amnesty International and as part of congressional staff.
Carter Eckert (1968–71) describes life in Korea under the dictatorship of Chung-hee Park, a time of censorship, curfews, and surveillance. Laurel Kendall (1970–71) recounts gender discrimination and asks, "Did Women Have a Peace Corps–Korea Experience?" Don Baker (1971–74) writes about traveling to the city of Gwangju just after an uprising there was brutally put down. Other contributors who served in the Peace Corps include Edward J. Baker (1971–73), Donald Clark (1967–69), Bruce Fulton (1978–79), Linda S. Lewis (1970–72), Michael Robinson (1968–71), and Edward Schultz (1966–67). Co-editor Seung-kyung Kim and scholars Okpyo Moon and Clark W. Sorensen make it clear this project is far more than collective cheerleading.
Kathleen Stephens, who served as a Volunteer in South Korea 1975–77, provides the afterword; a career diplomat, she returned to Korea as U.S. ambassador 2008–11, the first woman — and the first Korean speaker — to serve in that role.
This review appears in the special 2022 Books Edition of WorldView magazine.
---
Steven Boyd Saum is the editor of WorldView.
---