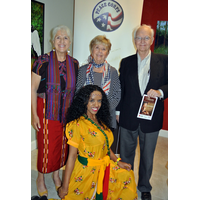 By Bernadette & David Miron (Colombia 1963-1965)
As Returned Peace Corps Volunteers, we feel bound by the 3rd Goal "to promote a better understanding of other peoples on the part of Americans." This 55th anniversary of the Peace Corps afforded us an opportunity to act, in a larger way, on our pledge. The result was the "Third Goal International Film Festival Celebrating 55 Years of the Peace Corps."
Bernadette thought that organizing and producing the festival could rejuvenate the First Coast Returned Peace Corps Volunteer group's membership, especially by involving younger members. But most of all, she said, a festival could "push back against the times we live in where the 'other' is seen as the enemy; when we are encouraged to build walls between countries, keep the Muslims out, live in fear of the 'other'. We wanted the festival activities to display the humanity of the 'other.'" A 22-person First Coast committee organized a menu, selected films, chose a venue and raised funds. Their budget was over $5,000, including a $500 donation from NPCA.
The contributions of our larger Peace Corps Community often go without notice, but our collective impact is great. We value NPCA, and as Shriver Circle members, we contribute financially to help further the mission. As attendees at past Peace Corps Connect conferences in Nashville & Berkeley, we were nurtured by the legacy of 10 Years of RPCV Film Festivals in Columbia, Missouri and San Francisco. As advocates for the Peace Corps, we work hard with our Representatives. This year, we not only lost Congressman Sam Farr, RPCV Colombia, but Congressman Ander Crenshaw, our local Representative for the Jacksonville area, and Co-Chair with Congressman Farr and others of the Congressional Peace Corps Caucus. So we start again. Wish us luck, Peace Corps needs us all.
Pictured above from left to right is Rosemary Calhoon Takacs (RPCV Paraguay, Peace Corps Response Guatemala), Bernadette Miron, Scott McLucas, Underwriter of the Festival, and Ethiopian dancer, Mimi Kasha, at the "Third Goal International Film Festival Celebrating 55 Years of the Peace Corps."
Join Bernadette and David in strengthening our advocacy efforts today.
---