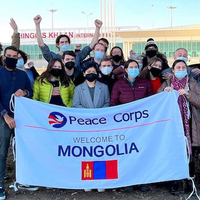 Volunteers Have Returned to Some Four Dozen Countries
By NPCA Staff
More good news about Peace Corps Volunteers returning to service in countries around the world comes every month. As of the beginning of February 2023, Volunteers have now returned for training and service in 47 countries around the globe — including the new program launched in Viet Nam. More than 900 Volunteers are currently serving. Invitations are out for at least eight more countries.
The first Volunteers began returning to service in March of 2022, two years after all Volunteers were brought home from the 62 countries where they were serving because of COVID-19. As Volunteers began returning to scores of countries in 2022, the resounding message has been: The Peace Corps is back.
Those beginning training and service in recent months include Volunteers and Peace Corps Response Volunteers. They include those who were evacuated, those who have signed up for service within the past year, and those who were in limbo for many months. Robust reentry criteria for health, safety, and other logistical factors were developed by the agency, and as those criteria are met Volunteers have been invited to return.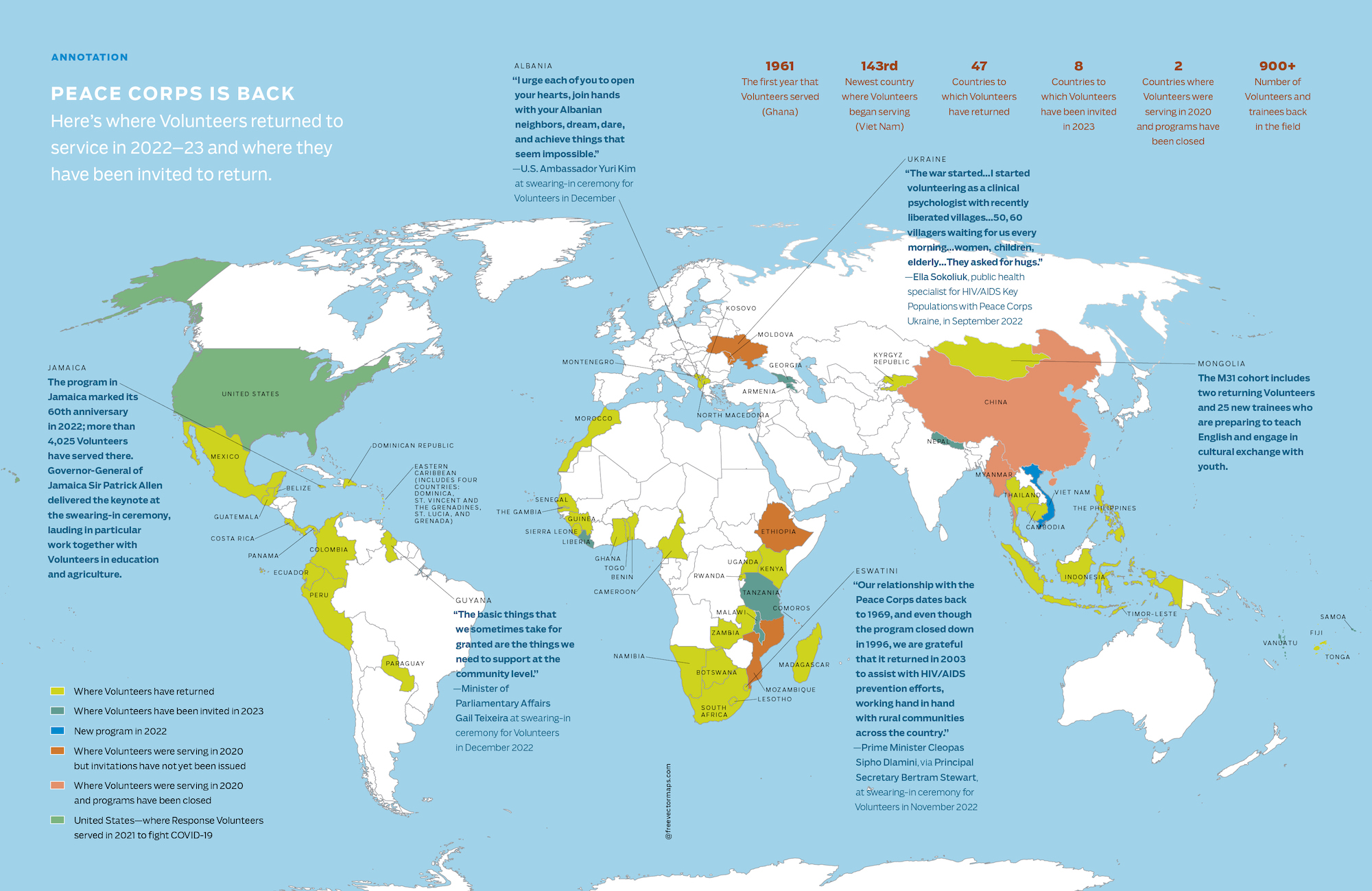 PEACE CORPS IS BACK: Here's where Volunteers returned to service in 2022–23 and where they have been invited to return. See a full-sized version of this map in the Winter 2023 edition of WorldView magazine. You can also download a PDF of the map here — or by clicking on the map itself. Map courtesy @freevectormaps.com, with annotation design by Pamela Fogg.
Here is where Volunteers have returned as of January 2023.
Albania & Montenegro (Post includes both Albania and Montenegro)
Belize

Benin

Botswana

Cambodia

Colombia

Costa Rica

Dominican Republic

Eastern Caribbean (Post includes Dominica, St. Vincent and the Grenadines, St. Lucia, and Grenada)

Ecuador

Eswatini

Fiji

The Gambia

Ghana

Guatemala

Guinea

Guyana

Indonesia

Jamaica

Kenya

Kosovo

Kyrgyz Republic

Lesotho

Madagascar

Mexico

Mongolia

Morocco

Namibia

North Macedonia

Panama

Paraguay

Peru

The Philippines

Rwanda

Senegal

Sierra Leone

South Africa

Thailand

Timor-Leste

Togo

Uganda

Viet Nam

Zambia
Invitations for 2023
Posts that have issued invitations for the first Volunteers to return in 2023 include Armenia, Georgia, Liberia, Malawi, Nepal, Samoa, Tanzania, and Vanuatu.
Invitations have not been issued for Volunteers to return to all countries from which they were evacuated. Violence within Myanmar forced the Peace Corps to close the program there in 2022. The full-scale Russian invasion of Ukraine makes it unsafe for Volunteers to return to Ukraine or neighboring Moldova in person, though virtual service continues. Horrific fighting in Ethiopia has precluded Volunteers from returning there. In Mozambique, violence caused by an Islamic extremist insurgency in the north has been spreading. In the Pacific, Volunteers have not yet been invited to return to Tonga — though Friends of Tonga has been very active in supporting the country's recovery from the volcanic eruption and tsunami in January 2022.
"Our hearts are filled with joy."
The return of Volunteers has led to moments of personal reunion with colleagues and host families — whether that's Daniel Lang returning to teach in Mongolia or Jody Leuenberger returning to Fiji this past fall.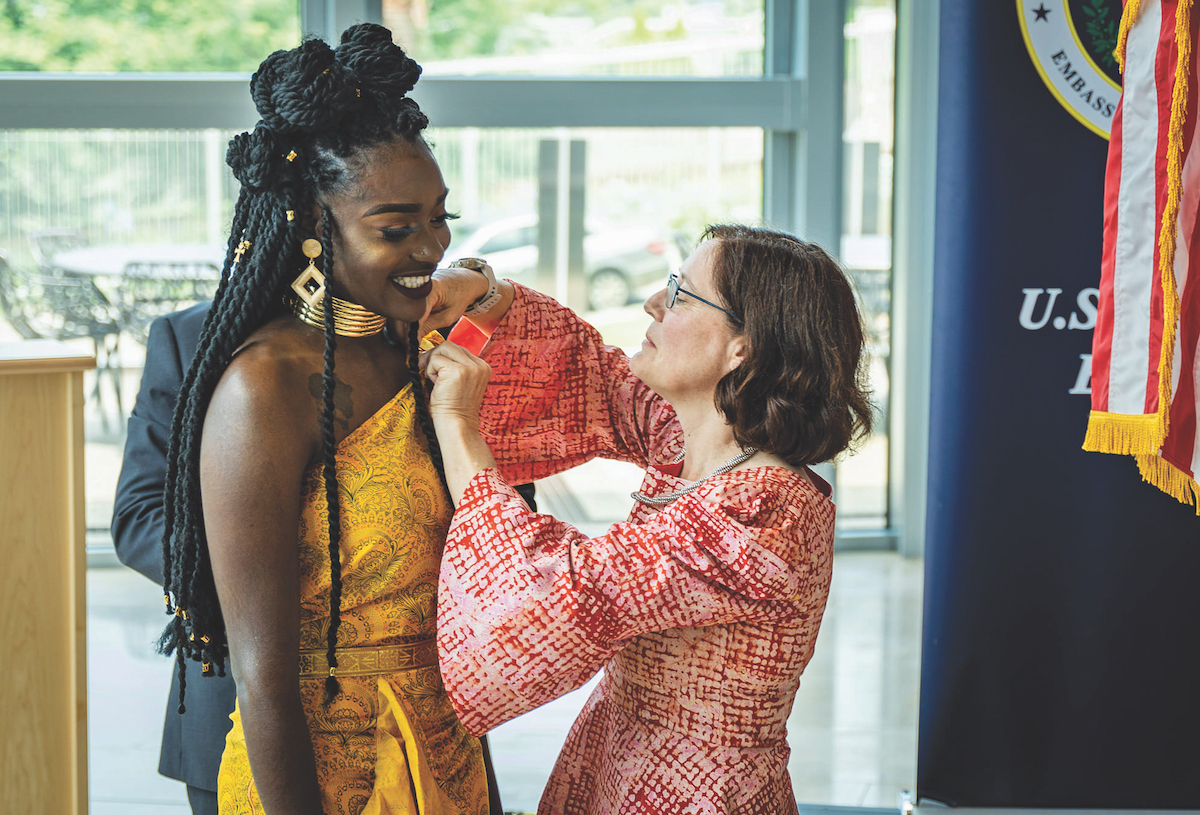 "Today marks day one of your return." In Eswatini, Volunteer Ebony receives a Peace Corps pin from Country Director Katharine Kreis. Photo courtesy Peace Corps Eswatini.
In a swearing-in ceremony in Eswatini in November, Peace Corps Country Director Katharine Kreis articulated what so many have said in different ways in recent months: "Our hearts are filled with joy to welcome these Volunteers—and also still yearning for more Volunteers to place in all of the communities whose Volunteers were evacuated. Nine hundred and seventy-seven days ago Peace Corps was evacuated from Eswatini. Today marks day one of your return."
Prime Minister of Eswatini Cleopas Sipho Dlamini was represented at the event by Principal Secretary Bertram Stewart, who said that they are "proud of the enormous contribution made by the Peace Corps program in Eswatini and the entire globe, and indeed affirming President Kennedy's declaration of Peace Corps promoting 'world peace and friendship.'"
December saw the first Volunteers sworn in since 2020 in countries including Albania and Morocco, Jamaica and Montenegro, Guyana and Cambodia. The program in Jamaica marked its 60th anniversary in 2022; more than 4,025 Volunteers have served there. Governor-General of Jamaica Sir Patrick Allen delivered the keynote address at the swearing-in ceremony, lauding in particular work together with Volunteers in education and agriculture.
In Montenegro, Peace Corps' history is much shorter: The six new Volunteers who are beginning work supporting English language teaching are in fact the first to serve there. In 2020, the first cohort was still in training when they had to be evacuated.
It is often the case that the U.S. ambassador to a country administers the oath to new Volunteers. In Guyana in December, Ambassador Sarah-Ann Lynch offered the 18 new Volunteers insights from her own Peace Corps service in Morocco 1984–86. While she taught English, she gained new skills herself — including learning Arabic — as well as a wealth of experience and indelible memories. Lynch is a career diplomat, having served in Bangladesh, Peru, Afghanistan, and Iraq, with additional Washington-based assignments that have been focused on the Middle East, Latin America, and the Caribbean. Her brother and niece are also returned Volunteers.
"The basic things that we sometimes take for granted are the things we need to support at the community level."




—Gail Teixeira, Minister of Parliamentary Affairs, Guyana
Guyana's Minister of Parliamentary Affairs, Gail Teixeira, spoke at the ceremony as well. She testified to the importance of the work Volunteers have been doing for decades. Previously the country's minister of health, Teixeira recalled the role Volunteers played during a cholera outbreak in the 1990s. Teaching in the schools, they helped children become "our main advocates at home … to get not only that [cholera] eliminated but other gastric diseases from our children."
Teixeira also offered an observation that likely resonates with members of the Peace Corps community around the world, including across the United States: "The basic things that we sometimes take for granted are the things we need to support at the community level."
---
This story appears in the Winter 2023 edition of WorldView.
---