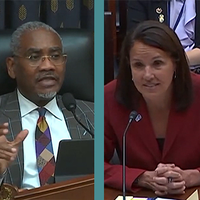 Takeaways from the House of Representatives Foreign Affairs Committee hearing on October 27, 2021
Words by Jonathan Pearson
Transcript editing by Rachel Edwards
Video editing by Orrin Luc
Acting Peace Corps Director Carol Spahn appeared before the House Foreign Affairs Committee on October 27, 2021, for a hearing on Peace Corps' operations. Spahn fielded a range of questions, including diversity initiatives, recruitment strategies, decolonizing U.S. foreign assistance, and — not surprising — the status of redeployment of Volunteers internationally.
Along with the Peace Corps, the three hour hearing also included representatives of the Millenium Challenge Corporation and the U.S. International Development Finance Corporation.
Below are excerpts from the hearing.
Watch a playlist of clips from the hearing focusing on the Peace Corps.
Bipartisan Praise From the Top
In their opening remarks, Chairman Gregory Meeks (D-NY) and Ranking Member Michael McCaul (R-TX) praised the work of the Peace Corps and its Volunteers. Chairman Meeks noted the strong, bipartisan passage of "much needed" Peace Corps reauthorization legislation, the Peace Corps Reauthorization Act (H.R. 1456) introduced by RPCV Rep. John Garamendi (D-CA). "With a $400 million-plus budget, the Peace Corps has been able to reach the most remote parts of our world," Meeks said, "spreading American values and working with local communities to promote and create sustainable development."
While noting the agency still has much work to do to improve its operations — including addressing sexual assault of Volunteers — Ranking Member McCaul praised the Peace Corps on its 60th anniversary. "Congratulations, Ms. Spahn and to the Peace Corps, and all of your officers on this milestone event," McCaul said. "I want to thank the incredible Peace Corps Volunteers, especially those from my home state of Texas who have selflessly given their time to do good work for other human beings across the world."
Spahn on the historical Role of the Peace Corps — and meeting current needs
"As the Peace Corps celebrates its 60th anniversary, we are building on a solid foundation to meet this historic moment, and to set the stage for the next 60 years," Carol Spahn said. "Our primary focus is to safely return Volunteers to service and to apply our resources in combating the impacts of COVID-19, which are disproportionately affecting countries where Volunteers serve."
Historically, Spahn said, Peace Corps Volunteers "have been and will be at the last mile reaching some of the most isolated and underserved populations … The pandemic has set back years of development progress and produced unprecedented challenges. It has also underscored our world's profound interdependence and shared future. Recovery will require international cooperation not only at the government level, but also at the community level. And that is where the Peace Corps as a trusted community partner will return to service in new and time-tested ways."


When will Volunteers begin to redeploy?
A question on everyone's mind was raised during an exchange with Rep. Dean Phillips (D–MN) and Acting Director Carol Spahn: What are the plans for Volunteer redeployment and how long will it take for Peace Corps to fully return to the field?
"We will gradually build up."




—Acting Peace Corps Director Carol Spahn
Spahn did not provide a specific date when redeployment will begin, but she noted the process will be gradual. "We are returning on a country by country basis, based on the conditions in that country — so the initial ramp up will be slow, so that we can test our systems," she said. "And we will gradually build up after we've learned from some of those initial inputs."
Spahn cited several factors that are being taken into consideration in making decisions on redeployment, including the ability to adapt programming to maximize health and safety; having emergency action plans in place should health conditions in a country deteriorate; and access to stable medical hubs, as well as backup hubs.
"We know that we will be living with COVID for some time," Spahn said. "There are urgent needs out there, and we believe that we can return Volunteers safely to some countries. And we've begun that process."
Spahn added that some of the 60 countries where Volunteers were serving remain locked down. "Those will be the ones that we will need to push back a little bit further."


China, South Asia, and the Pacific Region
In response to general questions or statements from committee members regarding growing regional and global influence from China, Spahn outlined parts of agency planning for the South Asia Pacific region. "We are currently looking to get back into countries that we left: Fiji, Samoa, Tonga, and Vanuatu," she said. "We have also opened new country programs in Sri Lanka, and expect to welcome volunteers to Vietnam for the first time. We're also negotiating a country agreement with Solomon Islands."



Diversity, Equity, and Inclusion: Recruiting Volunteers and working with the wider Peace Corps community
Chairman Meeks noted that a key priority for him is that the foreign affairs committee examine diversity, equity, and inclusion programs across our nation's international assistance programs. He praised Spahn and the Peace Corps for its efforts. "I understand also that the Peace Corps has instituted this robust program that you've talked about in your opening statement — intercultural competence, diversity, equity, and inclusion — and that you've been leading these efforts. You know, and you probably, from my examination, are ahead of a lot of other agencies."
"Intercultural competence, diversity, equity, inclusion is really at the core of who we are as an agency."




—Acting Peace Corps Director Carol Spahn
Spahn told the committee that the Peace Corps has redoubled its commitment during the suspension of operations to address intercultural competence, diversity, equality, inclusion (ICDEI), and accessibility. This work, she said, "is at the core of who we are and what we do. Our approach encourages deep humility and builds transferable skills as our staff and volunteers partner at a grassroots level with people from 64 different countries."
Spahn testified that in the past ten years the percentage of volunteers who identified as people of color increased from 16 percent to 34 percent. She said the agency is expanding outreach to minority-serving institutions of higher education and removing significant financial barriers to service through efforts such as increasing the reimbursements for the cost of medical clearance. She said all worldwide staff have received unconscious bias training, while 80 percent of posts have received five day intensive ICDEI training. Representative Karen Bass (D-CA) asked Spahn to drill down on what the percentages mean — and she asked how the agency is working with the Returned Peace Corps Volunteer community to recruit Volunteers who are people of color.
Spahn pointed to collaboration with groups of returned Volunteers — in particular National Peace Corps Association — that play a critical role in supporting returned Volunteers.
Representative Kathy Manning (D-NC) asked about support for Volunteers who are women, people of color, or identify as LGBTQ. Representative Brad Schneider (D-IL) asked about the focus of Peace Corps on recruiting college graduates — and if that was the best way to meet the needs of communities around the world. Likewise, he asked Spahn to address how Peace Corps Volunteers were playing a role to tackle climate change. Spahn noted that is a priority in environment and agricultural programs as well as education, and that Volunteers frequently serve in communities that are disproportionately affected by climate change.


Decolonizing Foreign Assistance
Citing Peace Corps' history of being founded at the height of the Cold War, Rep. Sara Jacobs (D-CA) asked Spahn how the agency is addressing this issue. Spahn replied by saying this is an ongoing process, and something "we all need to wrestle with."
"We've just gone through an extensive process to revise each and every one of our project frameworks, developing that logical project framework," said Spahn. "And in that, in developing those frameworks, we have representatives from the government, we have representatives from NGOs, from counterparts from communities that are impacted, as well as from Volunteers, helping to design where our niche is, and … where we can be most helpful."
"It has never been about Volunteers going in to make a difference on their own. It is about that partnership, about that deep respect and humility."




—Carol Spahn
Spahn added that central to Peace Corps service is the spirit of understanding and collaboration. "It has never been about Volunteers going in to make a difference on their own," she said. "It is about that partnership, about that deep respect and humility. And that is why our Volunteers learn local languages. It is why they live and work at the level of the communities that they serve, but this is a time to ask those important questions."


'Development, Democracy, Diplomacy, and Diversity'
In concluding the hearing, Chairman Meeks noted that his priority in taking on the chairmanship of the committee, "I said that my priorities can be categorized into four D's: development, democracy, diplomacy, and diversity." Meeks underscored that this work actually saves U.S. taxpayers money; it is far more expensive when the U.S. sends in the military instead of the Peace Corps.
Support and guidance of the Peace Corps and its work "is something where I believe that we can really work in a bipartisan way," Meeks said. "Because the issues and what your charge is not a partisan issue at all, as often on this committee when we're dealing with foreign affairs. We should not have a partisan divide. And so it is my hope, as the chairman of this committee, that we continue to work with you and you continue to follow up with all of our members, so that we can come in one accord, and focus on the goodness of the people of the United States of America, and continue to lead in that vein. And I think what your agencies do is what demonstrates who we are and why democracy, development, and diplomacy is what should take the lead."
---
Jonathan Pearson is Director of Advocacy for National Peace Corps Association. Rachel Edwards is an Advocacy Intern with NPCA. Orrin Luc serves as Digital Content Manager with NPCA.
---