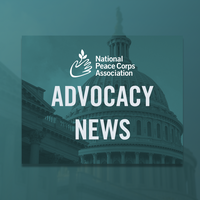 NPCA and other health advocacy groups are continuing the push forward on final passage of H.R. 2259, or the Sam Farr and Nick Castle Peace Corps Reform Act of 2018.

On June 28th, NPCA led Health Justice Advocacy day on Capitol Hill. This event rallied 20 RPCVs together to fight for comprehensive reforms to Peace Corps health protocols both for volunteers currently serving and for sustained and continued improvements for volunteers who are victims of sexual assault and other forms of violence. These advocates participated in more than 50 meetings with officials on Capitol Hill, focusing on members of congressional offices with key roles in congressional oversight committees.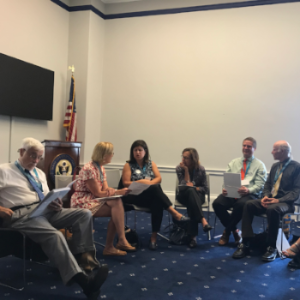 Following Health Justice Day, The Returned Peace Corps Volunteers of Washington DC, Health Justice for Peace Corps Volunteers and the "My Peace Corps Story" podcast co-hosted a Story Slam nearby. The Story Slam created a space for RPCVs to tell their stories, to give them a voice, and to share their experiences with other members of the Peace Corps community.
At the Story Slam, other RPCVs joined those from the advocacy day with prepared stories to share. They told stories about their time in the Peace Corps with a focus on stories involving a health perspective; good, bad and funny.
The stories ranged from hilarious experiences to tough challenges they faced during their service. One RPCV compared herself halfway through Peace Corps service to her bathroom; run-down and smelly. Other RPCVs shared stories of their struggles adjusting to their new communities as well as adjusting back into life in the U.S. Although some RPCVs had prepared their stories, others got the courage to share theirs as the night went on.
It was a great event that helped RPCVs to bond over similar experiences they shared in all different parts of the world.
To promote the human aspect of Health Justice Day and of the health and safety legislation on its way through Congress, NPCA has compiled a few pieces that connect stories to faces and to remind us that this bill will have tangible effects on the lives of currently serving and returned Peace Corps Volunteers.
You can follow this link to see C-Span Footage of the unanimous passage of H.R. 2259; the deliberation on H.R. 2259 starts at 2:41:00. See our previous article for a more comprehensive break down of the bill and of advocacy efforts moving forward.
SUPPORT YOUR COMMUNITY:
Write to your members of Congress urging final passage of Peace Corps health/safety legislation and adoption of the House version of the bill, while also noting more work needs to be done in the future to address the needs of Returned Peace Corps Volunteers who come home with service-related illnesses or injuries.
(Image 1: Advocates came together on Capitol Hill to prepare for their meetings; image 2: Dave and Sue Castle with Senator Bob Corker)
---