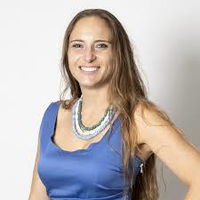 We thank you for your continued support and acknowledge the need for change. Closing remarks for Peace Corps Connect to the Future.
Thank you, Glenn. And thank you, Dr. Frederick, for your support. We look forward to continued engagement with you and with Howard University.
Fellow RPCVs and friends, on behalf of the National Peace Corps Association Board of Directors and as a Returned Peace Corps Volunteer from Costa Rica from 2006 to 2008, I'm so grateful for the opportunity to engage with you today. Thank you for your passion for service, for your dedication and time, for your bold ideas to build a better future for the Peace Corps. As Volunteers, we lived and worked in communities across the globe to promote world peace and friendship. We answered the call to serve because we imagined a better world. And we're here today because we believe in a better future. As a community, we recognize that Peace Corps has its flaws. Within NPCA, we likewise acknowledge our own shortcomings. In embracing the need for change, we take time to reflect upon our history across our community within ourselves.
Watch: Maricarmen Smith-Martinez's closing remarks for Peace Corps Connect to the Future
We are here because, for the first time since 1961, there are no Peace Corps Volunteers in the field. The global evacuation triggered by COVID-19 resulted in an unprecedented disruption of service for thousands of our PCVs, and many are eager to redeploy but face an uncertain environment.
We're here because racism is a systemic issue, and our community is not immune. The struggle for racial justice is embedded in the history of the Peace Corps, present in the early days of our founders, and demonstrated in the Volunteer experience today. We are here because we recognize these challenges and we champion your ideas to reimagine the future of the Peace Corps. With the social impact approach, NPCA works not only for our community, we are driven by you and the priorities you bring to focus.
So that leaves us with a big question. Where do we go from here?
To convey that I'm inspired by the ideas of this summit and the eight town halls proceeding it does not do justice to the hope I feel and the optimism I hold for our future. We've heard about ways to create a more inclusive community, one that recognizes racial justice is a critical component to ensuring diversity. We've heard about revamping Peace Corps policies, about establishing an exchange program with the countries we serve, about evaluating RPCV support, and about measuring our collective global impact. We have heard the ideas of our future. The NPCA staff is small but mighty — and I express my heartfelt appreciation and gratitude for our dedicated, courageous team that raised the bar these past few weeks, working tirelessly to create a space to listen, to learn, and to forge a path for the future.
Yet we cannot go alone. Working together with you, with Peace Corps, and with RPCVs across the nation and around the globe, we must now convert these ideas into actions, develop the strategies and the programs that will enable us to fulfill our vision of a united and vibrant Peace Corps community. So we do not ask you to stay tuned for more information, we invite you to sing the song with us, and we offer several instruments to enable your support.
First and foremost, engage with us. If you have not already, join NPCA to learn more about the next steps that will develop from these big ideas.


Second, donate. We could not undertake any of the work we do without your generous support. Your financial leadership allows us to develop new initiatives like the Global Reentry Program we heard about today. Your contributions allow us to continue critical engagement for advocacy efforts, expand our support for the affiliate group network, and further the unfinished business of RPCVs and communities around the world. Contribute to the Community Fund Projects, become a Mission Partner, or join our Shriver Leadership Circle. Your support in any amount will help fund the ideas discussed today and ensure they become part of our reality.

Next, connect with the Affiliate Group Network. As past president of Atlanta Area RPCVs, I understand firsthand the challenges affiliate groups face with community outreach. More than 180 affiliate groups are eager to reach you — from regional and country of service groups to workplace affinity groups that support RPCV recruitment and professional growth in the workplace, to the increasing number of cause-driven groups championing issues like environmental action, social justice, and refugee support — that are joining this network. Search the affiliate group directory on the NPCA website. And if you don't find what you're looking for, contact us to learn about starting a new group.

And finally, amplify our voice. We number over 230,000 RPCVs and Peace Corps staff, yet many in our community remain on the fringes. As we work to create a more inclusive environment, we need your help to reach our fellow volunteers, and shape a space that welcomes everyone. We know that we can go further together and we must unite as we never have before to realize our full potential.
On behalf of the entire NPCA team, thank you so much for being here today. Thank you for your commitment and your dedication.
I'll take one note in an immediate call to action. As Glenn noted earlier, we will have a survey to collect your feedback on the summit and the actions we will undertake in the days to come. Please take a moment to share your thoughts with us and inform our continued improvement. We are honored to walk with you on this journey as we connect Peace Corps to the Future. Thank you.
---
Maricarmen Smith-Martinez is Chair of the Board of Directors for National Peace Corps Association. She served as a Volunteer in Costa Rica 2006–08.
---