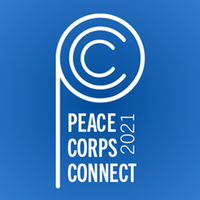 The 60th anniversary conference marks six decades of service by Volunteers around the world. And the special anniversary edition of WorldView magazine includes excerpts of some conversations from the conference. You'll also find select videos from the conference available through links below.
By Glenn Blumhorst and Corey Arnez Griffin
This is a pivotal moment for the Peace Corps community. In 2021, we marked six decades of service by Volunteers in communities around the world. But this is also an unprecedented time for the Peace Corps. In March 2020, all Volunteers were evacuated because of the COVID-19 pandemic. In a community-driven effort, National Peace Corps Association is working to help transform Peace Corps: to reimagine, reshape, and retool the agency for a changed world.
So while we celebrate this historic milestone, we also focus on the work that must be done to make a better and stronger Peace Corps for the future. On September 23–25, in a robust digital program, we looked back — at Peace Corps' impact over the decades — and we celebrated. And we tackled some hard conversations about how Peace Corps needs to change if it is to represent what is best about this country.
In the pages that follow are just a few of the conversations from Peace Corps Connect 2021. Explore more and see videos of individual sessions on the NPCA YouTube channel and at bit.ly/peace-corps-connect-2021.
The Peace Corps community needs your hands and hearts for what's ahead. Let's ensure the people's representatives in the United States Congress do their work to enable a better and stronger Peace Corps for a changed world. Let's ensure we continue to hold the agency accountable to living up to Peace Corps ideals. And let's make sure that we tell the stories of service, of community, of building peace and friendship, in a way that people who might never have seen themselves as part of this big story say, Yes, I can do this — and we can do this: make a more peaceful, more just, more equitable world. Together.
---
Glenn Blumhorst (Guatemala 1988–91) is President and CEO of National Peace Corps Association.
Corey Arnez Griffin served as vice chair of the NPCA Board of Directors 2018–21.
---
Peace Corps at 60: A Conversation with the Acting Director of the Peace Corps and the President of National Peace Corps Association
Keynote Discussion: Asian Americans and Pacific Islanders Leading in a Time of Adversity
Peace Corps Safety and Security: A Decade of Legislation for Change

Awards presentations: Sargent Shriver Award for Distinguished Humanitarian Service | Loret Miller Ruppe Award for Outstanding Community Service | Deborah Harding Awards | Kate Raftery Emerging Leader Award
Panel discussions, interactive sessions, and the closing keynote: Evacuated Peace Corps Volunteers: Then and Now, We Continue to Serve | From Peace Corps to Black Lives Matter: Striving for Allyship at Home and Abroad | Climate Change and Migration: Policies, People, and Proposed Solutions | Futurist Jerome Glenn: Future Additions to the Peace Corps
---