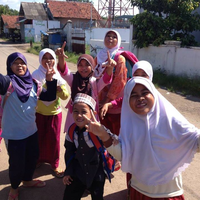 The Peace Corps has a long and proud history of advancing opportunities for girls and women around the world, especially through education. That has also been an important component of National Peace Corps Association, many of our affiliate groups and other strategic partners.
Earlier this week, news reports cast the ongoing commitment into some doubt, especially in its current form. CNN, citing internal agency communications it obtained, reported that while work on these programs would continue, they would no longer be done under the "Let Girls Learn" (LGL) initiative launched two years ago by former First Lady Michelle Obama. Soon after these reports began circulating, the White House, State Department and USAID (another key partner in the initiative) indicated there would be no changes. "There have been no changes to the #LetGirlsLearn program," read a State Department tweet. "We are committed to empowering women and girls around the world."
Addressing a Critical Need
The need to support girls' and women's education and empowerment has been a global concern for many years. Today, an estimated 62 million girls around the world are not in school. Half of them are adolescents. Countries with more girls in secondary school tend to have lower maternal mortality rates, lower infant mortality rates, lower rates of HIV/AIDS and better child nutrition. Too often, a girl who could change her world for the better is locked out of that future by the circumstances of her birth or the customs of her community.
Launched in March 2015, and championed by the First Lady, Let Girls Learn was established with a goal of amplifying existing programs while also investing in new efforts to expand educational opportunities for girls, including in areas of conflict and crisis. In its 2015 - 2016 progress report, the agency noted that "The Peace Corps Let Girls Learn program builds on the Peace Corps' 55 years of experience of working with girls and communities." The report notes that "over 300 Peace Corps staff members, nearly 5,000 Volunteers and over 1,800 counterparts have participated in Peace Corps Let Girls Learn training events."
The Peace Corps Community in Action
The progress report also highlighted the efforts of National Peace Corps Association. "[NPCA] on its own initiative...played a critical role in working with the greater returned Peace Corps Volunteer community, which has actively supported the Peace Corps Let Girls Learn Program." A $200,000 partnership pledge with the RPCV-founded non-governmental organization Water Charity was part of the $2.5 million in private funds pledged to the Peace Corps Let Girls Learn Fund as of September 30, 2016. The Atlanta Area RPCVs were highlighted in the report as one of many NPCA affiliate groups and individuals that organized or supported Let Girls Learn. Meanwhile, many country-of-service groups have longstanding girls education programs that date years before the launch of LGL.
Moving Forward
"The development community has long known that investing in girls and women yields the highest returns," said NPCA President and CEO Glenn Blumhorst. "Because of this, we are heartened by the administration statements re-emphasizing its commitment to empowering women and girls around the world." At the same time, Blumhorst noted that such a commitment includes the need to fully fund the Peace Corps, providing no less than stable funding of $410 million, when President Trump releases his full budget later this month.
Visit and donate to NPCA's #ProtectPeaceCorps campaign and be part of a growing list of leaders who are ensuring the future of a strong and well-resourced Peace Corps.
Give to NPCA's Community Fund Girls' Empowerment and Education Campaign and ensure that these projects continue to be funded.
---