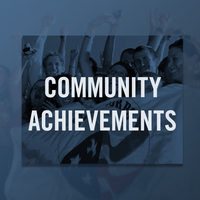 ARMENIA
Mandy Manning (1999-2001) has been announced as the 2018 Teacher of the Year, an annual national recognition of teaching excellence and impact since the 1950s. She teaches English and mathematics to refugee and immigrant students at Joel E. Ferris High School in Spokane, Washington. Mandy will spend the next year as an advocate for more than three million teachers and 50 million public school students across the country. In her role as National Teacher of the Year, Manning said she wants to share her students' stories "because I think it's vitally important, especially right now." She is often the first teacher her students have when they come to the U.S.
BULGARIA
Anissa Wanat (1997-1999) is the 2018 recipient of the Eddy Award for Revitalization from River Action, Inc. in Davenport. The Eddys are given annually to individuals and organizations that have gone against the current to get things done, accomplishing outstanding riverfront activity or development. Anissa is program director for the Moline office of Global Communities, a nonprofit organization based in Maryland. She opened the office in 2015, under a three-year contract by the John Deere Foundation to help people in the mostly Hispanic Floreciente neighborhood to reinvigorate the area and improve their lives. Since then, much has been accomplished. Eight women have gotten training for better-paying jobs. Twenty-five middle school students have developed educational plans to help them succeed in college. Homes have been repaired through low-cost loans. A crumbling sidewalk that children use to walk to school has been repaired. (Stories by Alma Gaul agaul@qctimes.com)
CAMEROON
The Bucyrus (Ohio) Tourism and Visitors Bureau's Board of Directors has announced Max Miller (2011-2013) is the Bureau's new executive director. A native of Bucyrus, Miller graduated from Bucyrus High School in 2006. He earned a bachelor's degree in communication technology from The Ohio State University and a master's degree in Recreation Park and Tourism Administration from Western Illinois University. After serving as a volunteer with the Peace Corps in Cameroon, Max returned to the States to work in economic and community development in Illinois, eventually making his way back to Ohio. "I believe in a collaborative, regional approach to promoting the activities, businesses, and events that make this community such a unique place to visit." Max honed these community engagement skills during his PC service.
COLOMBIA
Returned Peace Corps Volunteers from around Missouri and the U.S. gathered on April 22, in Bolivar, Missouri's Greenwood Cemetery to remember one of their own, 56 years to the day after his death. David Crozier (1961-1962) whose short life is marked by a simple gravestone next to his parents' gravesite in Bolivar — died in a plane crash April 22, 1962, in Colombia, alongside fellow volunteer Larry Radley. Crozier and Radley were the first Peace Corps volunteers worldwide to die in service.
INDIA
Gershon Gurin-Podlish and Joe Piede reunited this spring after their volunteer service nearly 50 years ago. A local library development project in the Indian village of Seeyapoondi fostered their reunion. Joe became a high school teacher and creator of an import/export business, enabling him to remain connected to India. Gershon worked in the visual arts as a sculptor, building several studios in western Massachusetts. Gershon has been an administrator at Children's Voices in the Wind enabling children of the United States to help other children, around the world, who are victims of war, natural disasters, abuse, poverty and neglect. Through the purchase of kites, designed by Children's Voices in the Wind, children in the United States provide these kites to non-profits who then distribute them abroad.
LESOTHO
Madeline Uraneck (2006-2009) was selected as Wisconsin's first International Education Consultant and wrote one of the country's first international education curriculum guides to come out of a state department of education and in 2009 was named the Global Educator of the Year by the Friends of International Education. She is the author of a new publication, a blend of "immersion journalism" and memoir. An encounter with an office cleaning woman thrust Madeline into the life of a family of immigrants just arriving from India and Tibet. How to Make a Life shares the immigration story of a Tibetan refugee family who crossed real and cultural bridges to make a life in Madison, Wisconsin, with the assistance of the Midwestern woman they befriended. From tales of escaping Tibet over the Himalayas, to striking a balance between old traditions with new, to bridging divides one friendly gesture at a time, readers will expand their understanding of family, culture, and belonging.
LIBERIA
Angene and Jack Wilson (1962-1964) celebrated the Kentucky-based International Book Project's renovated warehouse and bookstore on Saturday, March 24, 2018. The Wilsons were Peace Corps volunteer teachers in Liberia, where they rejuvenated the library at their local school with books sent by family members. After living in Liberia, Sierra Leone and Fiji, they moved to Lexington in 1975 and discovered Harriet Van Meter and International Book Project, which she founded in 1966. IBP sends more than 400,000 books annually to over 70 developing countries.
MALAWI
Paul Theroux (1963-1965) is known for his captivating novels and descriptively honest travel narratives. The latter have inspired readers to leave the comforts of home, and travel with a purpose beyond mere sightseeing. His keen perceptions and innate curiosity are revealed in "Figures in a Landscape," a new collection of essays (to be published on May 8), and in his latest autobiographical novel, Mother Land (published in paperback on May 1), about a large and dysfunctional family on Cape Cod.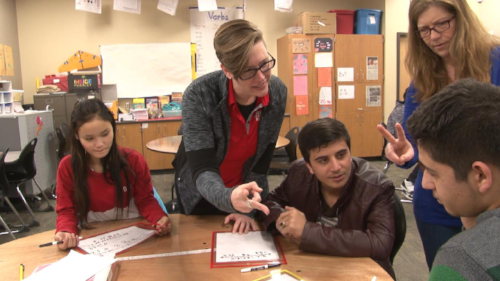 Mandy Manning, 2018 National Teacher of the Year Credit: Ferguson Films
---
FROM THE COMMUNITY NEWS EDITOR: WE INVITE YOU TO SEND YOUR RECENT NEWS AND ANNOUNCEMENTS TO PETER DEEKLE (pdeekle@peacecorpsconnect.org) for future postings in our monthly e-newsletter column.
---