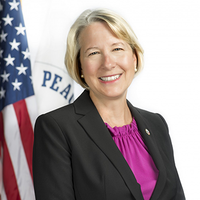 News and updates from the Peace Corps community — across the country, around the world, and spanning generations of returned Volunteers and staff.
By Peter V. Deekle (Iran 1968–70)
Carrie Hessler-Radelet (pictured left), a former Peace Corps director, begins a new position as president and CEO of Global Communities — an organization whose recent efforts include working in partnership with communities in Ukraine to provide essential non-food items, mental health support, and assistance to internally displaced persons. President Biden appoints Lisa E. Delplace as a member of the U.S. Commission of Fine Arts to help oversee the cultural and historic preservation of the District of Columbia. A new director of operations for a Panama-based tour company. Two RPCVs receive awards for their commitment to leadership and global citizenship.
Have news to share with the Peace Corps community? Let us know.
DOMINICAN REPUBLIC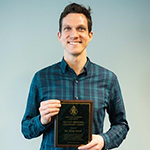 Ryan Stock (2007–09), a political ecologist, is the 2021–22 recipient of the Faculty Emerging Leadership Award at Northern Michigan University. He is an assistant professor in the Earth, Environmental, and Geographical Sciences Department. With an extensive list of published works, Stock has several ongoing research projects including environmental injustices of solar PV life cycle, climate adaptation and vulnerability of farmers in India, gendered livelihoods and solar development in Ghana, and climate policy in South Asia. Stock has held many leadership roles promoting environmental sustainability, gender inclusion, student involvement, and anti-racism. He was the impetus for the NMU Carbon Neutrality Task Force which aims to create a carbon neutral campus by 2050 by improving waste and recycling, protecting freshwater resources, promoting education and awareness, and building local partnerships. Stock is a member of the Sustainability Advisory Council. Off-campus, he serves as a member of the Marquette County Climate Action Task Force and advocates for the City of Marquette to commit to carbon neutrality through its Climate Action Resolution.
KENYA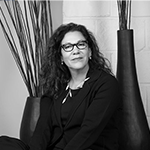 Lisa E. Delplace (1982–84) was appointed as the newest member of the U.S. Commission of Fine Arts by President Biden. She is principal and CEO of the Washington, D.C.–based landscape architecture firm Oehme, van Sweden (OvS). In this new position, Delplace will represent landscape architects, a role which was previously missing from the commission. She is tasked with preserving and enhancing the District of Columbia's visual and cultural character as well as helping to plan for public spaces, monuments, climate change–related issues, and security matters. Her previous work ranges from sculpture parks to urban redevelopments and examines the compelling structural relationship between architecture and landscape. She is a member of the American Society of Landscape Architects Council of Fellows — one of the highest honors ASLA bestows upon members — and she is a visiting critic and lecturer at various universities and organizations. In addition to her Peace Corps service in Kenya, she has international experience working in Europe and the Middle East.
LESOTHO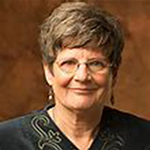 Madeline Uraneck (2006–09), a long-term contributor to international education and service, has received the 2022 Global Citizenship Award from the Wisconsin Council of Social Studies. The recipient of this award exemplifies social studies principles by improving the quality of life for others and promoting the common good. Uraneck has traveled to more than 60 countries, studied six languages, and willingly self-identifies as a "global citizen". As a well-respected educator, Uraneck values the connections she makes within other cultures, learning languages from children and meeting kind strangers. She has won several awards including DPI by Goldman Sachs Foundation Award for State Leadership and Council of Chief State School Officers for International Education. She is a professional member, presenter, and key-note speaker for Wisconsin Council for Social Studies and has authored Planning Curriculum in International Education and How to Make a Life, a story of her interactions with a Tibetan refugee family in Madison, Wisconsin.
NIGERIA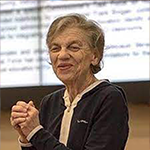 Mary Johnson has been selected as a 2022 GenEd Teacher Fellow and will embark on a ten-day intensive professional development program in July. The fellowship, which is based at the Armenian Genocide Museum-Institute, offers professional development workshops about human rights and genocide with a closer look at the Armenian experience. Johnson is an affiliate and adjunct professor for Stockton University's Holocaust and Genocide Studies, a program that prepares its graduates for careers in education, museums, and organizations that aim to stop and prevent mass atrocities. For more than three decades, Johnson was the senior historian for Facing History and Ourselves, an organization that challenges students and teachers to confront racism and prejudice, where she facilitated seminars and workshops, wrote curricula, and conducted research.
PANAMA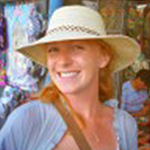 Megan Thompson (2018–19) is the newly appointed director of operations for Retire in Panama, a full-service relocation tour company known for its innovative approach to supporting expatriate residents with their relocation and resettlement needs. Retire in Panama also shares educational resources to connect prospective clients and current clients with housing, financial planning assistance, and access to Panama's history and culture. Thompson brings to the new roles a strong leadership foundation gained during the two-year advisory position she held with the company, and she brings a unique cultural understanding of Panama gained from her experience as a Peace Corps Volunteer who worked on environmental conservation, recycling and trash services, and sexual wellness education. In her new role, Thompson will oversee all aspects of operations, including personnel and contractor management, client services, tours and logistics.

SIERRA LEONE/NIGER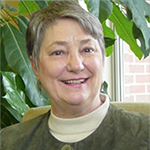 Mary Alice Serafini (1969–72) retired in March 2022 from her position as assistant vice chancellor for student affairs and executive director of the Pat Walker Health Center at the University of Arkansas. As a Volunteer in Sierra Leone and Niger, she served as a teacher before starting her employment at the University of Arkansas in 1991 as the assistant director of administration for the Health Center. Recognized for her support and advocacy for international students and scholars, Serafini has been committed in her leadership programs focused on student diversity and inclusion. She is a longtime member of the NASPA, the professional association of student affairs, and helps inspire undergraduates to see student affairs as a viable career path through the NUFP Mentor Program. During her time with the university, Serafini championed for the counseling center's expansion, which included the addition of mental health and wellness promotion, the growth of counseling staff, and the creation of designated, welcoming space within the Pat Walker Health Center. Her compassionate leadership and service to others earned Serafini the respect and love of her colleagues and students. During her retirement, she plans to continue volunteering and engaging in public policy.
SOUTH AFRICA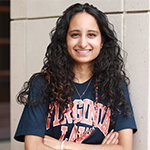 Juhi Desai (2018–20) has been elected president of the Student Bar Association at the University of Virginia Law School. Before entering law school, she served as an elementary school teacher in South Africa with the Peace Corps and was evacuated in March 2020 because of COVID-19. Prior to serving with the Peace Corps, she taught civics and economics, AP U.S. history, and world history at a high school outside Boston. As an attorney she plans to work as a public defender and notes that "the United States is the most incarcerated nation in the world."
WESTERN SAMOA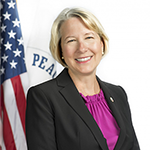 Carrie Hessler-Radelet (1981–83) will assume the role of president and CEO of Global Communities on October 1, 2022. She has been serving as president of the organization since September 2021. Last year Global Communities also completed a merger with Project Concern International, where Hessler-Radelet had been serving as president and CEO. Global Communities is devoted to providing a more equitable future through humanitarian assistance, sustainable development, and financial solutions. Currently, the organization is working in partnership with communities in Ukraine to provide physical and mental health support and to assist internally displaced persons. Hessler-Radelet has worked in previous global leadership positions as director, acting director, and deputy director of the Peace Corps. Before being appointed as Director of the Peace Corps by President Obama, Hessler-Radelet oversaw public health programs in 85 countries as the vice president and director of John Snow, Inc., a public health management consulting and research organization. Hessler-Radelet brings to her new role decades of global health experience which includes serving as the lead consultant on the first Five Year Global HIV/AIDS Strategy for the President George W. Bush's Emergency Plan for AIDS Relief (PEPFAR), working with USAID in Indonesia on maternal and child health and HIV programming, founding the Special Olympics in The Gambia, and being the third generation in her family to serve as a Peace Corps Volunteer.
---