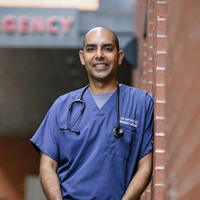 News and updates from the Peace Corps community — across the country, around the world, and spanning generations of returned Volunteers and staff
By Peter Deekle (Iran 1968–70)
A mayoral candidate for Boston. A recipient of American Institute of Architects' highest award. Peace Corps writers write. And a big winner on "Wheel of Fortune"!
Photo: A Twitter moment with Jon Santiago, a member of the Massachusetts State Legislature and ER phyiscian — and now candidate for mayor of Boston.
AZERBAIJAN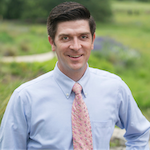 Patrick Newman will become CEO and president of Fort Worth Botanic Garden and Botanical Research Institute of Texas effective May 1, 2021. He has been serving as executive director of the Lady Bird Johnson Wildflower Center in Austin since 2016, with more than 14 years in public gardens. At the Lady Bird, he oversaw a $5 million annual budget and supervised a staff of 60 employees and 800 volunteers.
CAMBODIA
Melany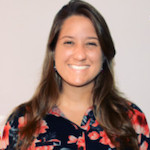 Danielson (2015–18) is a recipient of the Priscilla Perry Memorial Scholarship. She is enrolled at the University of Miami Law School and plans to pursue a career in public interest law fighting for marginalized groups.
DOMINICAN REPUBLIC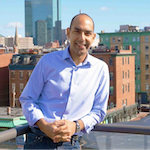 In February, Massachusetts State Representative Jon Santiago (2006–08) declared his candidacy for mayor of Boston. His launch video, titled "Our Boston Story," tells how his early years in Boston led to a life of service – in the Peace Corps, as a captain in the U.S. Army Reserve deploying overseas, an emergency room physician, and as a state representative. Santiago is currently serving his second term as the State Representative for the 9th Suffolk District representing the South End, Roxbury, Back Bay, and Fenway neighborhoods of Boston. He is an emergency room physician employed at Boston Medical Center, the city's safety net hospital.

FIJI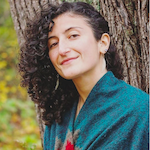 Carissa Wills-DeMello (2014–16) is co-founder and CEO of Town Farm Tonics, along with her partner and fiancé Adam Davenport. Their herbal medicines business is located in Rhode Island.


GHANA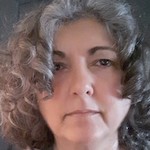 Melissa Fischer is the author of "The Advocacy," a novel focusing on the gold-mining region in Ghana, and on a village whose drinking water supply is a river, which is ruined by the construction of a dam by the local gold mine.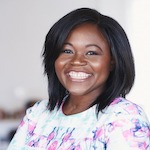 Rahama Wright (2002–04) was recently featured by Nasdaq.com in an interview, "The Poverty-Alleviating Power of Shea Butter: Rahama Wright's Mission of Empowerment." After her Peace Corps service, Wright launched Shea Yeleen, a social impact company that creates living wage jobs for women-owned shea butter cooperatives in Ghana. "As a first generation Ghanaian American," she says, "the lives of women in rural Ghana reflect the life of my mother who immigrated to the U.S. in the 1980s to give her kids a better future. I grew up in a household where my father, an American, had a master's degree and my mother had a sixth-grade education. I was acutely aware of the inequalities in the world simply from seeing our family dynamics, and my passion for women's economic empowerment developed at a young age. As a result of my heritage, I identify deeply with African women and I know how economic opportunities can transform their lives."
GUATEMALA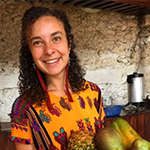 Liat Perlin joins the Tulane University's Roger Thayer Stone Center for Latin American Studies to continue her Food Studies research by conducting ethnographic work with Guatemalan farmers. She is also the recipient of a Mellon Fellowship in community engaged scholarship.
LESOTHO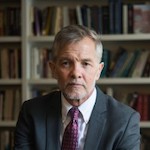 David Chard has been appointed permanent Dean of Boston University's Wheelock College of Education and Human Development and Professor of Special Education. He had been serving as interim dean. Dr. Chard previously served as President of Wheelock College until the 2018 merger with Boston University. Prior to that, he was Dean of Southern Methodist University's Annette Caldwell Simmons School of Education and Human Development for nine years. He holds a Ph.D. in special education from the University of Oregon and a B.S. in mathematics and chemistry education from Central Michigan University.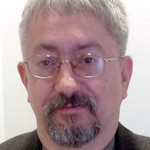 Thomas Soucia (1981–84) is seeking election to a vacant seat on the Franklin County Court bench in New York State. He has worked as a public defender since 2007 and was a child support attorney for the Department of Social Services in Franklin County from 2000 to 2007. In addition to his work in Franklin County, Soucia worked as a public defender in Micronesia, an island nation in the western Pacific, from 1997 to 2000, was in the U.S. Navy's Judge Advocate General's Crops from 1989 to 1995, and served on the USS Cape Cod during Operation Desert Storm.
LIBERIA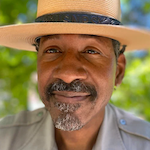 Shelton Johnson (1982–83) has worked as a park ranger in Yosemite National Park for over 20 years. He recognized the disconnect experienced between Black Americans and natural spaces, saying "one of the great losses to African culture from slavery was the loss of kinship with the earth." Johnson advocates for representation and inclusion in National parks and still works as a park ranger at the age of 63. He was recently featured by University of Wisconsin-Madison among Black Leaders in Environmentalism. Johnson grew up in Detroit, but discovered his love for nature while living in Germany, where his father was stationed in the army. He received his B.A in English Literature from the University of Michigan and served with the Peace Corps after graduation. Johnson then began working as a park ranger and was soon inspired by the work done by the Buffalo Soldiers at Yosemite in the early 1900s. Johnson thought of his own upbringing in Detroit and decided to focus his efforts on bringing people of color to the great outdoors.
LITHUANIA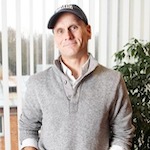 Patrick Chura (1992–94) is the author of "Michael Gold: The People's Writer," published by SUNY Press in December 2020. It is an authoritative biography of the dean of American proletarian writers during the interwar years. Jewish American Communist writer and cultural figure Michael Gold (1893–1967) was a key progressive author of his generation, yet today his work is too often forgotten. His acclaimed autobiographical novel Jews without Money (1930) is a vivid account of early twentieth-century immigrant life in the tenements of Manhattan's Lower East Side.
Chura is Professor of English at the University of Akron. He is the author of "Thoreau the Land Surveyor" and "Vital Contact: Downclassing Journeys in American Literature from Herman Melville to Richard Wright."
MICRONESIA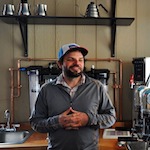 Tim Cureton, along with Abby West, opened the first Rise Up Coffee in St. Michaels, Maryland. And what started as one small coffee trailer in a parking lot has evolved into five iconic locations.


MONGOLIA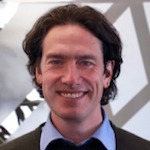 Jeffrey Reeves (2001–03) is vice president of research for the Asia Pacific Foundation (APF) of Canada. Prior to joining APF Canada, Reeves was the director of Asian studies at the United States Army War College in Carlisle, Pennsylvania.

MOROCCO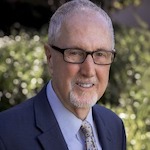 Robert K. Miller was appointed to the Santa Barbara City College (SBCC) Foundation Board of Directors in December 2020. He joined the SBCC District Board of Trustees in March 2018.

PARAGUAY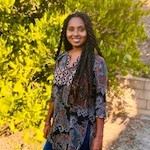 D-M-H-A ... and what words begin to appear? Miriam Welderufael served as a Volunteer in Paraguay 2013–16. And here's a moment of true delight for her in a bonus round on "Wheel of Fortune" in February 2021. Welderufael is a portfolio manager at AmeriCorps in Los Angeles. For those who want to know how things turned out on the show, be sure to watch the video in the link. (Here's a clue: Her winnings include over $57,000 and a Mustang convertible.)

PERU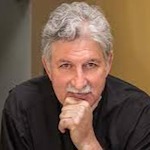 The American Institute of Architects (AIA) has awarded Edward Mazria (1963–65) the 2021 annual gold medal, AIA's highest honor. As the founder of Architecture 2030, Mazria is attempting to transform the built environment from the major contributor of greenhouse gas emissions to a central solution to the climate crisis.

UZBEKISTAN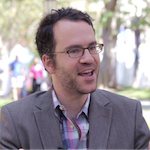 The latest from writer Tom Bissell (1996) is a collection of short stories, "Creative Types and Other Stories," published by Pantheon Press (March 2021). As Publishers Weekly notes, "The seven stories in Bissell's droll, thoughtful collection (after the travelogue Apostle) portray artistic people in the midst of unfortunate circumstances, often due to their own actions." There's a confrontation with a Roman tour guide during a honeymoon trip that goes awry; a married couple who's hiring of a female escort leads to more serious problems revealed, and comeuppances for both a schoolyard bully-turned-magazine editor and for a former lawyer for the Justice Department who is accused of war crimes overseas for his advocacy of torture during the Iraq War.
Many readers know Bissell's work through the film adaptation of "The Disaster Artist: My Life Inside the Room," made into a film by James Franco. In the new collection, "The Hack" follows an assistant for Franco navigating the actors' demands during an appearance on Saturday Night Live.
Bissell's books include "Chasing the Sea: Lost Among the Ghosts of Empire in Central Asia," "The Father of All Things: A Marine, His Son, and the Legacy of Vietnam," and "Magic Hours: Essays On Creators and Creation."
---