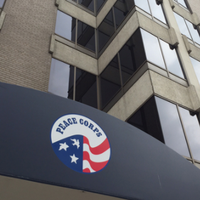 With a political stalemate over funding for a border wall, a partial government shutdown went into effect as of midnight Friday. Peace Corps funding falls under the State/Foreign Operations appropriations bill – one of seven appropriations bills that Congress and the White House have not finalized.
How does the government shutdown effect the Peace Corps?
In its operational plan to address the shutdown, the agency notes that plans do not include closing down volunteer posts around the world. Volunteer operations and overseas staff would remain open and at work, due to safety and security considerations, the complexities and potential costs of shutting down operations, especially if the shutdown turned out to be of a short duration.
As noted in the agency's plan, "Given the significant tangible and intangible costs that would be incurred in evacuating all Volunteers to their homes of record and the minimal savings in operating costs overseas that would be achieved by doing so, evacuating Volunteers and returning them to their homes of record would only be justified by a much more substantial lapse in appropriations than the agency expects. The agency has, therefore, determined that the Peace Corps is not required during a lapse in appropriated funding to take any action to evacuate Volunteers and return them to their homes of record."
This does not mean the agency is not impacted. While overseas staff will remain on the job, approximately half of the agency's workforce is expected to be furloughed. This includes activities and staff "not reasonably necessary for the safety of human life or the protection of property."
Peace Corps identifies the following programs that would face furlough: Volunteer recruitment, selection and placement and third goal activities, as well as any other activities carried out by the Office of Volunteer Recruitment and Selection, the Office of External Affairs, the Office of Strategic Information, Research and Planning, the Office of Overseas Programming and Training Support, the Executive Secretariat, 3 the Office of Strategic Partnerships, the Office of Innovation, the Office of Third Goal and Returned Volunteer Services, the Chief Compliance Officer and the Office of Civil Rights and Diversity.
Follow this link to see Peace Corps' complete report to the Office of Management and Budget, regarding its shutdown plans.
Follow this link for more general information on the partial government shutdown, and its potential impacts.
---