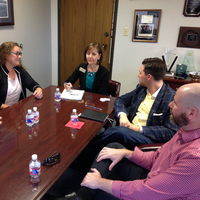 A defeated amendment to eliminate Peace Corps funding next fiscal year. Senate legislation to place Peace Corps under the Department of State. House legislation that would propose no less than $450 million for the Peace Corps, protect volunteer non-competitive eligibility (NCE) during a federal hiring freeze, increase pay for RPCVs on disability, and allow the Peace Corps logo to be used at gravesites of deceased volunteers and former staff.
The 116th Congress has before it legislation that will have an impact on these and other Peace Corps-related issues. That's why we are promoting and supporting district office meetings around the nation over the next ten weeks. It is time your lawmakers hear from you!
Ten district office meetings involving RPCV constituents have been held over the past several weeks with dozens more currently in the planning stages. Additionally, NPCA is collaborating with grassroots organization RESULTS, whose advocates support legislation and policies to address global health and poverty. Where possible, NPCA and RESULTS advocates will come together as voices for a strong foreign policy that supports humanitarian assistance around the world.
We encourage you to join in! View this map to see where meetings have been held or are in the works. Contact us if you want more information on an existing meeting or are ready to step up and take the lead in organizing a meeting at a congressional district office near you!
As you review the map, note the following:
RED PINS = District office meetings that have already been conducted.
BLUE PINS = District office meetings that are scheduled or being actively pursued.
YELLOW PINS = Areas and lawmakers where interest in a district office meeting has been expressed, but where we have yet to confirm meetings are being actively pursued.
(Photo: Several weeks ago, Returned Peace Corps Volunteers in Fort Worth, Texas meet with the district director of Representative Kay Granger (R-TX) to discuss Peace Corps issues and thank the congresswoman for successfully opposing an amendment which would have eliminated all Peace Corps funding in Fiscal Year 2020)
---