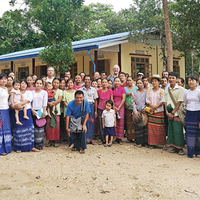 I first visited Myanmar as a tourist in 1996, a few years after the country's name changed from Burma. Years later, I was curious to return to Myanmar because I have grown to love Asia's art, its culture, and Buddhism.
I've traveled in more than 100 countries and many of them were very poor, but I never had the impulse to jump in and help solve a problem until the day in 2010 I walked through the hills of Myanmar's Southern Shan State.
In the market town of Kalaw, I met people working with a local non-government organization called the Rural Development Society. Despite the political and economic challenges of the country now known as Myanmar, this rural development organization has since 1990 been building schools in several surrounding villages. Two more communities were "school ready," meaning they had a donated school site, a commitment for government teachers, a school committee, a strong desire from parents to see their children educated, and a commitment from villagers to do the unskilled labor to build a school. They needed only funding, organization and a plan to execute the vision.
We went to see one of these villages, the ethnic Danu farming community of Nan Auw which was about one and a half hours over rutted tracks from Kalaw. The villagers had carefully carved out space for a school by redrawing their own house lot boundaries. Two days later the chief of Nan Auw came to Kalaw with a petition signed by all the villagers asking for help. Most of the signatures were 'X's. That night I thought long and hard about what it meant to be illiterate in the 21st century: no ability to use the internet, no access to further education, vulnerability to human trafficking and no prospects in life except to be a subsistence farmers like their parents. What could be done to keep the children of Nan Auw from a similar fate? The answer, I realized was to help the village build a school to educate them.
Returning to San Francisco, I talked to my friend Andrew Lederer, another RPCV who served in farm mechanics in Pune, India from 1969 to 1971. Andrew agreed to help raise money to build the Nan Auw school and we created Build a School in Burma to do it. Andrew and I wrote the first checks and started a campaign for donations. To our surprise we quickly raised enough money to build Nan Auw Primary School.
We have gone on to build 45 more schools with villages and partners in Myanmar. Most of our schools are quite similar in design, because of government requirements and the type of materials available in most rural areas of the country. We also seek to build cost-effective, durable buildings that can be maintained with locally available materials and labor skills. This means that buildings are simple. We strive for a brightly lit learning environment, and make sure the school has furniture, a water supply and sanitary toilets.
Fiscal Sponsors
Neither of us had any real experience raising money. That first year we put up our own donations and wrote to friends, relatives and professional associates asking for contributions. The goal was to raise $18,000 to cover the building costs for Nan Auw Primary School. But generosity foiled our simple-minded plan. Total donations topped $24,000. We decided to find another village needing a school. And so a "one-off" school became an organization.
Andrew and I had long been involved with non-profit organizations; we knew how time-consuming creating a 501(c)3 would be. A professional fundraiser friend suggested we work with a fiscal sponsor to get started, rather than spend our energy becoming a non-profit.
A fiscal sponsor provides its tax-exempt status to non-profit organizations. The fiscal sponsor usually charges a fee and sometimes provides other services, such as an on-line donation platform. Donors can take their tax deduction because of the fiscal sponsors IRS status.
Build a School in Burma is a non-profit organization with a specific focus on education in Myanmar. Our first 40 schools were built for less than $1 million. We were deeply fortunate to hire Naing Lin Swe as our country director. He is a longtime NGO worker who had just left the Karen Women Action Group, our longest active school building partner. Naing Naing's patient community development skills, as well as his knowledge of construction and his facility in dealing with people at all levels in Myanmar society have been powerful reasons for our success.
We keep our costs down to ensure compliance with all of our board's policies and IRS rules for each project. Naing Naing is our only employee and a board member contributes the cost of Naing Naing's salary. When advisory board members like Andrew and I travel to Burma we pay our own expenses. Operating expenses were about 7 percent of last year's budget. This allowed us to focus on raising money and building schools to build a track record.
Early results strengthened our fundraising and our experience working with communities to build their schools. Donations gradually increased, and we were faced with the problems of growth.
Both Andrew and I have experienced the disappointment of donating to high salaries and perks to executives and seeing the ineffectiveness of many NGO foreign assistance efforts.
We decided to organize Build a School in Burma as an all-volunteer effort and invited people who showed interest and had skills to join us on a volunteer advisory board and to manage web and social media, fundraising, accounting and disbursement, press, managing projects and programs from 9,000 miles away. Most of the seven volunteers providing services are in the United States but we're now getting increased support from Singapore, Sri Lanka, Thailand, and Norway.
Over time we have found generous donors who had a personal connection to Burma: Burmese emigrants who left and became successful elsewhere, travelers who had been touched by the graciousness of Myanmar people and wanted to help, Buddhist and Christian individuals and organizations with connections to the country.
Under the Country's Radar
Myanmar is a challenging environment. It remains one of the poorest countries in Asia. When Build a School in Burma began in 2010 the country was still a xenophobic military dictatorship. At that time, the average 25-year-old had only four years of formal education, the lowest in Asia. Foreigners were viewed with suspicion, and were prohibited from visiting many parts of the country. Transparency International had ranked only Somalia as more corrupt than Myanmar. Roads and communications were poor—many parts of the country lacked cell phone signals. The residue of many of these problems persist, but conditions are slowly improving and the government is devoting more money and effort to education.
Being old Peace Corps Volunteers, we decided on a 'bottom up' approach in-country: Build a School in Burma would work with local Myanmar non-government organizations and 18 community-based groups to build the 46 schools completed to date.
We collaborate with the local NGO or religious organization and the school committee, use local materials, designs, contractors and workers. Our goal was to remain "under the radar", and to empower the local people to resolve problems and deal with the government. To this day we have not had a formal meeting with the Myanmar's ministry of education. We're already active in communities to find villages which needed schools that were willing to contribute to building them.
Even now, the violent ethnic conflicts in this country are intense, particularly between the dominant Bamar (Burmese) and the more than 130 minority groups that make up 40 percent of the population. Ethnic conflict is still a risk in many parts of the nation and clashes between ethnic militias and the Burmese Army are a daily occurence.
We've been surprised at how quickly a project can come together. Working directly with communities rather than government ministries has been a key. I don't think we would ever have considered trying this without the cross-cultural training and experience Andrew and I had from Peace Corps.
Even under these circumstances, problems building schools in Myanmar have been fewer than we first expected. In one or two cases we decided not to build a particular school because we perceived someone had their hand out in getting approvals.
New Schools Over Nine Years
The cost of a three-room school on donated land is between US $25,000 - $30,000 today.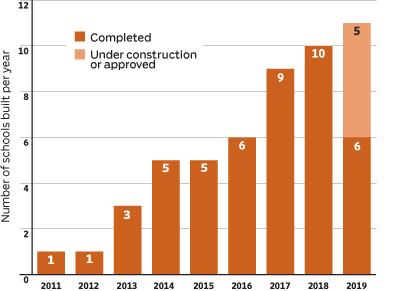 Most of our schools serve non-majority ethnic groups. None of our schools has been damaged in fighting but the bridge to one village school was blown up by the army a few years ago. Rapid urbanization and work abroad means populations are not growing in many rural areas, so a few schools have fewer students than we would like after expanding them. In a few cases the communities have not fully held up their end of the cooperative bargain or cooperation among villagers has broken down during or after construction. So far every school has been completed, is in use and is serving its intended purpose.
We began installing solar electricity in some schools in 2015. Until recently, only about one quarter of Burmese households had electricity from the national grid. As many of our 46 schools are in remote rural communities, most do not have access to power. Electric lights help students study at night, particularly to prepare for national exams given at the end of the 4th, 8th and 10th grades.
Perhaps the most important part of creating a school has been working with the community to discuss how to plan and organize. Cooperating with local partners, we select villages based on their knowledge of places they are already working. We have clear criteria for a school project: need, community participation, sustainability, readiness, interethnic and interreligious cooperation and keeping children together with their families.
A High School
Three years ago Peace Corps came slowly and haltingly to Myanmar. I made a point to seek out the new country director, even before the first volunteers arrived. We offered to collaborate with Peace Corps Burma on education-related projects, but nothing came of that meeting. So when the chance came last year to work with current volunteer Abby Hester, we were excited.
Abby contacted Bob through our Build a School in Burma website. She wrote about the need for a large new building at Thanatpin Basic Education High School near Bego in Southern Myanmar, where she was teaching. Several old buildings needed replacement; some were no longer safe to use. With a proposal drafted by Abby and the school staff and her counterpart, Naing Naing traveled to Thanatpin to assess the school.
The proposal was to build a new two-story, steel structure classroom building in early 2019. Abby's family donated funds toward the new school building. We hired an experienced contractor to erect a two-story steel frame building and add eight new sanitary toilets and a water supply.
Partnership with local communities and organizations is at the heart of all of our school projects. The Thanatpin community helped plan the building and donated labor and money for new toilets. They also cut a trackway to get materials to the building site.
Thanatpin was a bit non-standard in that the school committee became our partner rather than a third-party NGO. Abby and her counterpart, You You Wah, eased the process as did the work of a couple of particularly strong school committee members.
The project had many twists and turns. Several challenges had to be overcome, including a lack of space and school yard flooding during the rainy season. The site was at the back of the school compound, with no road access and the region was prone to flood in the rainy season. We had to cut a track beside a canal to bring in building materials. The building pad had to be lifted with soil brought from elsewhere in this very flat region. The toilet water supply piping was improperly installed and had to be reversed.
A date had been set for an official celebratory opening just before Abby's close of service date. We were operating under time pressure. Naing Naing, Abby and the Thanatpin school committee worked diligently to gain approvals, prepare the site and start construction.
On June 1, Build a School in Burma and Thanatpin marked the building's completion, just in time for the beginning of a new school year. The Deputy Chief of Mission from the U.S. embassy, the Peace Corps country director, several members of the state and national parliaments, local township and education officers, teachers and school staff, Abby's family, our advisory board members, members of the local community…and most importantly, the students of Thanatpin Basic Education High School, celebrated the new building together.
One of our special guests was David Zweig, an RPCV I served with in Jamaica 38 years ago. When another Jamaica RPCV told him about our Thanatpin school construction project, David offered to contribute the cost of the classroom furniture. We already had a donor for that but I persuaded him to support another nearby school. He contributed enough to build the entire Taw Bot Su primary school and we opened it the day after we opened Thanatpin. David came to attend both school openings and now serves on our Build a School in Burma board.
Robert Cornwell is the founder and executive director of Build a School in Burma. He served in the Peace Corps as an agricultural trainer in St. Mary's Parish, Jamaica from 1981 to 1983. During his professional career he has advised cities, states and federal agencies on public-private partnerships and capital finance, including the Washington Nationals baseball park in the District of Columbia.
This story was first published in WorldView magazine's Winter 2019 issue.
---