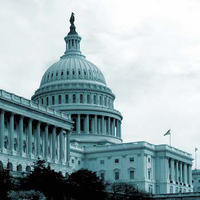 Our 19th Annual National Days of Advocacy in Support of the Peace Corps began with a return to Capitol Hill after a two year absence. Through March and April, supporters of the Peace Corps will take action to advocate for a strong Peace Corps budget and passage of our top legislative priority – the Peace Corps Reauthorization Act. Now is the time to get involved.
By Jonathan Pearson
For the past 19 years, National Peace Corps Association's (NPCA) primary contribution to Peace Corps Week — the week that includes March 1st, when President Kennedy in 1961 signed an executive order that established the Peace Corps — has focused on citizen advocacy. Our message: If you don't do anything else all year long, this is the time to reach out to your representatives in Congress and urge them to support the Peace Corps. When it comes to the Third Goal of the Peace Corps ("To help promote a better understanding of other peoples on the part of Americans") there is no more important audience to speak to than lawmakers who decide the future of this iconic government program.
On March 3, 2020, NPCA advocates were among the last citizens on Capitol Hill. One week later, the COVID-19 pandemic forced a shutdown of visitors to Capitol Hill and the Peace Corps' difficult decision to suspend global operations, bringing more than 7,000 Volunteers and trainees home. The first groups of Volunteers began returning to service overseas back in March 2022. Now 1,200 Volunteers and trainees have returned to 51 countries. As a result, it is time to press forward and ensure this new generation of Volunteers are returning to a stronger, improved Peace Corps.
In recent years, we have expanded from a singular "Day of Advocacy" to a two-month "Days of Advocacy" period. This change has provided flexibility for our members, so that everyone can advocate for the Peace Corps during the months of March and April.
Take Individual Action Right Now
Visit our NPCA Action Center to write to your members of Congress. Then, share this link with others. We need every citizen who believes in the importance of the Peace Corps to contact Congress at this important moment in Peace Corps history!
OUR AGENDA
During our 2023 National Days of Advocacy, you can use the following resources to advance our current agenda:
Pass the Peace Corps Reauthorization Act
We came so close last year to passing the first comprehensive reauthorization of the Peace Corps Act in a quarter-century. We must get this legislation across the finish line this year. On March 1, Ethiopia Returned Peace Corps Volunteer and Congressman John Garamendi (D-CA), a co-chair of the Congressional Peace Corps Caucus, reintroduced the Peace Corps Reauthorization Act (H.R.1273). This legislation would provide resources to advance the Peace Corps' mission around the world and better support current, returning, and former Peace Corps Volunteers. Legislation to pass the Peace Corps Reauthorization Act is expected to be reintroduced in the Senate in the coming weeks.
Click here for a copy of H.R. 1273. Click here for the current list of co-sponsors.

Click here for our Peace Corps Reauthorization Act issue brief and talking points

Click here for our one-page leave behind document to share during your congressional meetings
Support Strong Peace Corps Funding!
On March 9th, President Biden released his budget request for the Peace Corps to Congress. After seven years of flat funding, Congress last year approved the president's request of $430.5 million – a five percent, $20 million increase in funding – for the agency. For the next fiscal year (Fiscal Year 2024), President Biden is proposing $495 million for the agency – a fifteen percent, $65 million increase over current funding!
Representative Garamendi recently circulated the annual Peace Corps Funding letter in the House of Representatives. We anticipate Peace Corps champions in the Senate will once again circulate their annual Peace Corps Funding support letter to their colleagues in the coming weeks.
Click here for our Peace Corps funding issue brief and talking points

Click here for the House Peace Corps funding Dear Colleague letter (with 136 signatures)

Click here to review Peace Corps' FY 2024 Congressional Budget Justification
Join the Peace Corps Caucus (House of Representatives action only)
In the House of Representatives, members have been invited to demonstrate their support by joining the bi-partisan Peace Corps Caucus. RPCV Congressman John Garamendi (D-CA) and fellow Congressman Garret Graves (R-LA) serve as co-chairs of the House Peace Corps Caucus. Membership in the caucus does not bind a lawmaker to support Peace Corps related legislation — although we hope they do. This is one of the easiest ways for a member of the House to show support for the Peace Corps and stay informed on Peace Corps matters.
Click here for our Peace Corps Caucus issue brief and talking points

Click here for the Garamendi/Graves letter inviting colleagues to join the Peace Corps Caucus
Other Resources
As you plan to take action with your Members of Congress, take advantage of these additional resources:
Click here to download our two page Peace Corps advocacy leave behind document

Click here to view our State Resources webpage to find information on every member of Congress, and summaries of Peace Corps related activity in your state.

Click here to review Fast Facts about the Peace Corps, found on the agency website.

Organize a Days of Advocacy Solidarity Activity
Our National Days of Advocacy includes activities already underway and running through the end of April. Check out our 2023 Days of Advocacy map to see if any activities in your area are already in the works, including virtual meetings with congressional offices, letter writing gatherings, advocacy workshops, submitting op-eds or letters to the editor, and more.
If there's no activity already scheduled in your area, fill out this form, and help lead one!
Meetings With Congress
Along with our Capitol Hill Advocacy Day, a key component of our 2023 Days of Advocacy will be district office or virtual meetings with congressional offices.
Here are details on how to plan and carry out effective advocacy meetings. No previous experience is necessary. NPCA's advocacy staff and community leaders around the country are ready to assist you. Fill out this form if you can organize a district/virtual meeting with your member(s) of Congress.
Contact Us
Do you have questions or need more information? Email us.
---