SIT Graduate Institute Scholarships
Academic scholarships allow NPCA members to pursue master's degrees in international programs through SIT Graduate Institute. Members of the NPCA who have one year or more of significant Peace Corps experience are eligible to apply for this $10,000 scholarship. The RPCV Scholars who have come from this program have gone on to do amazing things beyond their master's degree and continue building on the impact of their Peace Corps service.
NPCA members can request information regarding this exclusive scholarship opportunity at 800-336-1616 or 802-258-3510, or on the SIT Graduate Institute web site.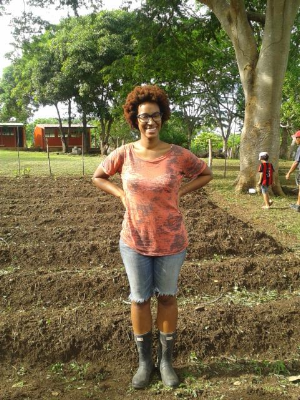 Originally from Seattle Washington, Ursula was exposed to the Peace Corps and international curiosity at a young age. Her parents served in the U.S. AmeriCorps and her older brother served in the Peace Corps in Morocco. In college, Ursula studied abroad in Spain, South Africa, and Jamaica in programs that are geared toward students with a serious academic interest in gaining international experience. Ursula received her Bachelor of Arts from the University of Washington with a major in Medical Anthropology and a minor in International Relations with a focus in Latin America. Through the exposure from her family and rigorous international academics, she knew that Peace Corps would be the ideal fit.
Ursula served in Costa Rica from 2012 to 2014 in a variety of capacities. Initially, she served on the border town on the Caribbean coast for one year as a Youth and Development volunteer in Sixaola Talamanca. After one year, Ursula moved to La Vigia, Guanacaste. In La Vigia, she helped build the community's basketball court, supervised nutrition classes at the Children Infant Center, established two community gardens for environmental sustainability, and led English classes and sports camps to enhance youth development. Additionally, Ursula was part of the diversity committee that led panels and trainings for volunteers and staff.
After returning from the Peace Corps, Ursula began working at Teen Feed where she became the Volunteer manager for the organization. At Teen Feed, she utilized her Spanish skills while preparing and serving meals to youth victims of homelessness. On the weekends, she volunteered with a local arts organization and took part in the Returned Peace Corps Volunteer group for Seattle as the Communications Chair. After one year, Ursula moved to D.C. where she pursued her Master's at SIT in Sustainable Development: International Management and Policy with concentrations in monitoring & evaluation and social innovation. SIT's focus on experimental learning and field-experience captivated Ursula's interest. Throughout her time at SIT, she gained writing skills in ethnographies for her anthropology background and tangible workplace skills from the Peace Corps that have been applicable to her practicum in D.C. Her monitoring and evaluation fellowship at Vital Voices Global Partnership correlates with her coursework at SIT. The cross-communication skills that she has acquired from the Peace Corps and SIT have helped Ursula develop her personal growth in an academic and professional setting. She is grateful for the opportunity to study at SIT through the NPCA scholarship because she believes that SIT wants their students to be successful and does so by teaching them the tangible skills that they need to be confident in the workplace.
After graduating SIT, Ursula is interested in working in the private or federal sector to try something different from her previous experience in the nonprofit sector. She intends to work in program development and design and risk mitigation around food systems and urban development where her passions about intersecting ideas, disciplines, and sectors are emphasized.
Learn more about how NPCA supports Returned Peace Corps Volunteers here.
---