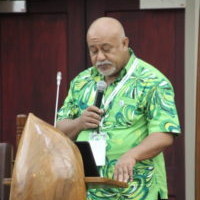 National Peace Corps Association (NPCA) is pleased to announce that the 2017 Harris Wofford Global Citizen Award will go to Siotame Drew Havea. Nancy Gehron (Peace Corps Tonga country director) noted in nominating him that Havea "is a well-known Tongan citizen for his work supporting youth, democracy, civil society and leadership in Tonga."
Havea has spent his life striving to eradicate poverty through a 'community first' approach to development and to create safe spaces to voice opinions for the historically underrepresented groups of young people and women in Tonga. In the Kingdom of Tonga's recent transition to democracy, Havea was instrumental in ensuring that common people - not just nobility and royalty - held leadership positions in the fledgling democracy. He has worked tirelessly to ensure that everyone can realize their full potential.
Havea has long been heavily involved in leadership roles with non-governmental organizations (NGOs) and community based organizations (CBOs) that relate to Tonga and the Pacific Island community at large. Havea currently serves as the chairperson of the Civil Society Forum of Tonga, the umbrella organization for all NGOs and CBOs in Tonga. He is also president of the Tonga National Youth Congress, chair of the Tonga National Leadership Development Forum, and member of the board of Tonga Red Cross Society.
The Peace Corps Connection
For Havea, the Peace Corps connection is a lifelong one. His father, a ministry of education officer, was instrumental in Peace Corps coming to Tonga in 1967, when Havea started junior high school. At that time there were five Peace Corps volunteers teaching at his school.
His father also likely helped arrange housing for Peace Corps staff, because Havea's family lived between the Peace Corps country director on one side and the Peace Corps medical officer on the other. He recalls that Peace Corps staff were always passing through his living room.
After attending college and graduate school in the United States, the opportunity arose for Havea to become Peace Corps staff in Tonga. He was an Associate Peace Corps Director (APCD) for twenty years, from 1985-2005.
His whole approach on life and development was vastly influenced by his experience with the Peace Corps. He gained an appreciation of community-based development after seeing how countless volunteers immersed themselves in their communities. He also credits Peace Corps Volunteers with instilling in him a sense of idealism as well as showing him the importance of equality, gender sensitivity, and volunteerism.
About the Harris Wofford Global Citizen Award
The Harris Wofford Global Citizen Award honors an outstanding global leader who grew up in a country where Peace Corps Volunteers served, whose life was influenced by the Peace Corps, and whose career contributed significantly to their nation and the world in ways that reflect shared values in human dignity and economic, social, and political development. It is the highest honor bestowed upon a global leader by the NPCA. For more information, visit NPCA's award page, and to attend the awards ceremony, register for Peace Corps Connect, NPCA's annual conference taking place in Denver, Colorado August 4-6, 2017.
---