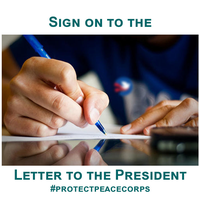 Sunday marked the official beginning of the 2018 federal fiscal year.
While Congress is still negotiating final spending levels for the FY 2018 budget (including deciding whether or not to provide level funding for the Peace Corps), the Trump administration is now beginning to plan how much funding it will recommend for Peace Corps in Fiscal Year 2019.
Because of this, the National Peace Corps Association (NPCA) is preparing its annual affiliate group sign-on letter to the president, which says in part, "we write to you to speak to the immense domestic dividend of the Peace Corps and to urge your investment in America's communities by increasing the Peace Corps' fiscal year 2019 budget."
If you belong to an NPCA affiliate group, check out the list below to see if your group is among those currently signed onto the letter. If not, contact your group leaders and remind them that they have until Friday, Oct 13th, to make sure your group is included on this important letter.
NPCA Affiliate Groups Currently Signed onto Peace Corps Funding Letter (67):
Geographic Groups
RPCVs of Phoenix (AZ)
Northern California Peace Corps Association (CA)

Sacramento Valley RPCVs (CA)

San Diego Peace Corps Association (CA)

Ventura County Peace Corps Association (CA)

Connecticut RPCVs (CT)

RPCVs of Washington DC (DC)

RPCVs of Delaware (DE)

First Coast RPCVs (FL)

RPCVs of North Florida (FL)

Idaho RPCVs (ID)

Chicago Area Peace Corps Association (IL)

Iowa Peace Corps Association (IA)

Indy Peace Corps Community (IN)

Kansas RPCVs (KS)

Kentucky RPCVs (KY)

Maine Peace Corps Association (ME)

RPCVs of Northern Michigan (MI)

Peace Corps Association of Southwest Michigan (MI)

Kansas City Area Peace Corps Association (MO/KS)

St. Louis Peace Corps Association (MO)

Nebraska Area RPCVs (NE)

RPCVs of New Jersey (NJ)

Northeast New York RPCVs (NY)

Returned Volunteers of Buffalo (NY)

RPCVs of New York City (NY)

Rochester RPCVs (NY)

Athens Area Association of RPCVs (OH)

Northern Ohio RPCVs (OH)

Southwest Ohio RPCVs (OH)

Tennessee RPCVs (TN)

Northern Virginia RPCVs (VA)

Seattle Area Peace Corps Association (WA)

West Virginia RPCVs (WV)

Milwaukee Peace Corps Association (WI)

RPCVs of Wisconsin - Madison (WI)
Country of Service Groups
Friends of Afghanistan

RPCV Friends of Azerbaijan

Full Basket Belize

Amigos de Bolivia y Peru

Friends of Costa Rica

Friends of Fiji

Friends of The Gambia

Friends of Ghana

Friends of India

Friends of Kenya

Friends of Lesotho

Friends of Malaysia

Friends of Micronesia

Friends of Morocco

Friends of Mozambique

Friends of Nepal

Friends of Niger

Friends of Nigeria

Friends of Pakistan USA

Friends of Sierra Leone

Friends of Thailand
Friends of Togo
Friends of Turkmenistan

Megobari Foundation
Other Groups
Alliance for Intercultural Understanding

LGBT RPCVs

Museum of the Peace Corps Experience

Peace Corps House

RPCVs for Environmental Action

Shriver Peaceworker Fellows Program

Women of Peace Corps Legacy
---