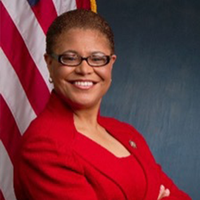 The past: The program you may not know about that inspired JFK. The future: How we change what America looks like abroad.
Photo: Rep. Karen Bass, who delivered welcoming remarks for the event, part of the Ronald H. Brown Series, on September 14, 2021.
On September 14, 2021, the Constituency for Africa hosted, and National Peace Corps Association sponsored, a series of conversations on "Strategies for Increasing African American Inclusion in the Peace Corps and International Careers." Part of the annual Ronald H. Brown Series, the event brought together leaders in government, policy, and education, as well as some key members of the Peace Corps community.
Constituency for Africa was founded and is led by Melvin Foote, who served as a Volunteer in Eritrea and Ethiopia 1973–76. In hosting the program, he noted how the Peace Corps has played an instrumental role in training members of the U.S. diplomatic community. "Unfortunately, the number of African Americans serving in the Peace Corps has always been extremely low," he wrote. By organizing this forum, he noted that CFA is attempting to build a community of Black Americans "who served in the Peace Corps in order to have impact on U.S. policies in Africa, in the Caribbean, and elsewhere around the world, and to form a support base for African Americans who are serving, and to encourage other young people to consider going into the Peace Corps."
Representative Karen Bass (D-CA), Chair of the House Subcommittee on Africa and Global Health, delivered opening remarks. "I have traveled all around Africa, as I know so many of you have," she said. "And we would love to see the Peace Corps be far more diverse than it is now. Launching this effort now, diversity and inclusion has to be a priority for all of us, including us in Congress. And we have to continue to try and reflect all of society in every facet of our lives … I am working to pass legislation to diversify even further the State Department, and looking not just on an entry level, but on a mid-career level. This effort that you're doing today is just another aspect of the same struggle. So let me thank you for the work that you're doing. And of course, Mel Foote as a former Peace Corps alum, and I know his daughter is in the Peace Corps. You're just continuing a legacy and ensuring the future that the Peace Corps looks like the United States."
"You're continuing a legacy and making sure that in the future the Peace Corps looks like the United States."

— Karen Bass, Member, U.S. House of Representatives
---
Read and Explore
The 2021 Anniversary Edition of WorldView magazine includes some keynote remarks and discussions that were part of the event.
Reverend Dr. Jonathan Weaver | Pastor at Greater Mt. Nebo African Methodist Episcopal Church; Founder and President, Pan African Collective

Gina Abercrombie-Winstanley | Chief Diversity and Inclusion Officer, U.S. Department of State

Aaron Williams | Peace Corps Director 2009–12

"First Comes Belonging"

Remarks and discussion with Returned Peace Corps Volunteers Howard Dodson, Sia Barbara Kamara, and Hermence Matsotsa-Cross. Discussion moderated by Dr. Anthony Pinder.
Watch the Program
Remarks were also delivered by Melvin Foote, founder and CEO of Constituency for Africa; Glenn Blumhorst, President and CEO of National Peace Corps Association; Dr. Darlene Grant, Senior Advisor to National Peace Corps Director; and Kimberly Bassett, Secretary of State for Washington, D.C., who welcomed participants on behalf of Mayor Muriel Bowser. Watch the entire event here.
---
Learn More
The Constituency for Africa was founded in 1990 in Washington, D.C., when a group of concerned Africanists, interested citizens, and Africa-focused organizations developed a strategy to build organized support for Africa in the United States. CFA was charged with educating the U.S. public about Africa and U.S. policy on Africa; mobilizing an activist Constituency for Africa; and fostering cooperation among a broad-based coalition of American, African, and international organizations, as well as individuals committed to the progress and empowerment of Africa and African people.
CFA also founded and sponsors the annual Ronald H. Brown African Affairs Series, which is held in conjunction with the Congressional Black Caucus (CBC) Legislative Week each September. The series honors the late U.S. Commerce Secretary for his exemplary accomplishments in building strategic political, economic, and cultural linkages between the United States and Africa. More than 1,000 concerned individuals and organizational representatives attend each year, in order to gain valuable information and build strategic connections to tackle African and American challenges, issues, and concerns.
---