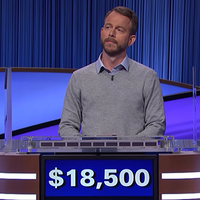 Four recent contestants — and one champion
By NPCA Staff
Geographer Charles Fogelman. Photo courtesy "Jeopardy!"
Here's your clue: This University of Illinois geographer served with the Peace Corps in Lesotho 2003–05, once hosted Queen 'Masenate Mohato Seeiso for dinner in Harlem, nailed questions in the category "The Equator" … and became champion on "Jeopardy!" on February 16.
Answer: Who is Charles Fogelman?
The one-day winner on the show was one of four recent RPCV contestants. The day before, Jimmy Rollins (Albania 2005–07), an international economic development consultant with Deloitte, leaned on his knowledge of Hemingway to finish second on the show.
In November, Taylor Mills (Kyrgyzstan 2009–11), a development finance manager originally from Texas, went up against a formidable new champion, Amy Schneider — who was just beginning an epic 40-game winning streak — and took third. It so happened that Maria Krasinski (Georgia 2017–18) came up against Amy Schneider on the penultimate game in Schneider's streak. Krasinski, an artist and illustrator who also serves as managing editor for News Decoder, tapped into her knowledge of coral ("What is the Great Barrier Reef?") to finish second.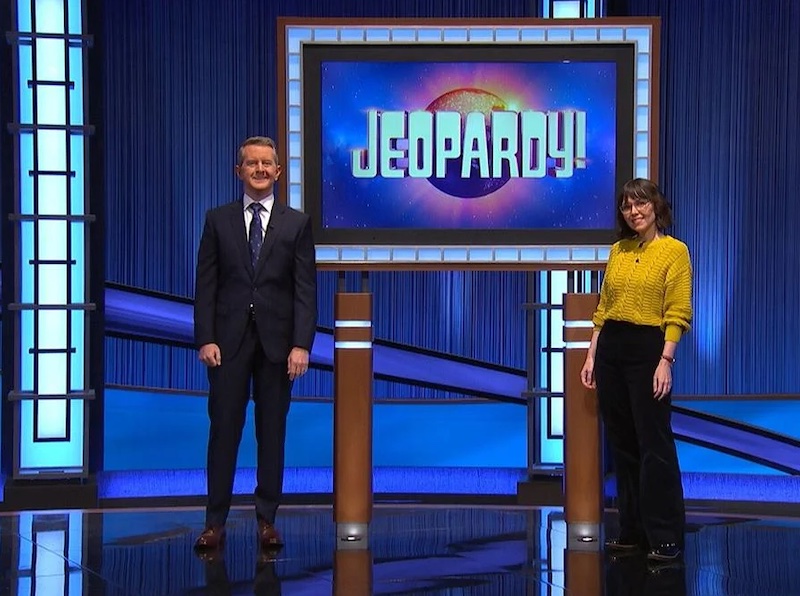 "What is the Great Barrier Reef?" Maria Krasinski, right, with "Jeopardy!" host Ken Jennings. Photo courtesy "Jeopardy!"
Just Got Real
While we're catching up on Peace Corps trivia: May 2021 brought a double hit. The category "Outlaws & In-Laws" led with the clue "JFK's brother-in-law Sargent Shriver was president of this intl. sports program for people with intellectual disabilities." ("What are the Special Olympics?")
The category "Just Got Real" served this softball for WorldView readers: "This government program got off the ground when a group of volunteer teachers landed in Ghana Aug. 30, 1961."
Answer: What is the Peace Corps?
---
This story appears in the special 2022 Books Edition of WorldView magazine. Story updated May 6, 2022.
---