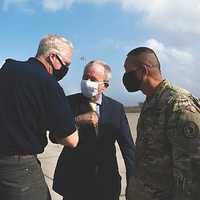 Larry André is the

new U.S. ambassador to Somalia.
Photo courtesy the U.S. Secretary of Defense
Larry André, who served as a Peace Corps Volunteer in Senegal 1983–85, is the new U.S. ambassador to Somalia. A career foreign service officer, he arrived in Mogadishu in January. It wasn't his first visit.
Back in 2007, André developed the U.S. mission in Somalia. In his current post, he will seek to foster peace and democracy in the country — at a time when Somalia is facing its worst drought in a decade.
André previously served as U.S. ambassador to Djibouti and Mauritania and worked with USAID, assisting in the reconstruction of post-war Chad. After service as a Peace Corps Volunteer, he worked at agency HQ as regional environment officer for East Africa, overseeing work in 14 countries, including Somalia.
---
This story appears in the special 2022 Books Edition of WorldView magazine. Story updated May 6, 2022.
---