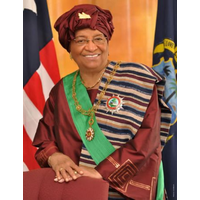 The National Peace Corps Association is pleased to announce that Liberian President Ellen Johnson Sirleaf will be a featured speaker at the Peace Corps Connect conference in Washington, D.C., on September 23-24, 2016. The President will present the inaugural Deborah Harding Women of Achievement Award at Friday morning's opening plenary. The award is given by the Women of Peace Corps Legacy, a group dedicated to empowering girls and women and celebrating their contributions to communities around the world.
Register now to be a part of this important event.
Meet President Ellen Johnson Sirleaf
As a lifelong advocate for girls and women, the world's first democratically-elected African female head of state, and a personal friend of Deborah Harding, President Johnson Sirleaf's presentation of this award is uniquely poignant. Born in Liberia in 1938, President Johnson Sirleaf has worked tirelessly and with integrity for the betterment of her country – even serving a 10-year prison sentence for speaking out against corrupt government leadership in 1985.
President Johnson Sirleaf has been a vocal advocate for women's empowerment, as well as the their crucial role in peacebuilding. Upon her election to the presidency in 2005, she made girls education a priority. Under her leadership, fees to attend primary school were abolished, leading to an 82 percent increase in enrollment. Within three years of her presidency, education programs became the second biggest program in Liberia's budget.
President Johnson Sirleaf is also responsible for Peace Corps' return to Liberia, a program she has described as "[impacting] the lives of millions throughout the world by bringing Americans across the ocean, teaching students and training teachers, and making our world a smaller place."
Presenting the Inaugural Deborah Harding Women of Achievement Award
President Johnson Sirleaf will address the attendees of the Peace Corps Connect conference, and present the Deborah Harding Women of Achievement Award — the first accolade dedicated to honoring female Peace Corps Volunteers (PCVs) whose service has significantly benefited women and girls around the world. The award is given by the Women of Peace Corps Legacy and is named in honor of Deborah Harding, for her lifetime commitment to the U.S. Peace Corps and women's leadership.
The first recipient of the Women of Achievement Award will be Sara Goodkind, who began the Girls Leading Our World (GLOW) program as a PCV in Romania in 1995. GLOW camps now exist in over 60 countries to empower young women and address their unique social and health needs.
Peace Corps Connect is the Peace Corps community's annual conference to connect, engage and inspire our community. The 2016 event in Washington D.C. will commemorate 55 years of Peace Corps and the global impact of the Peace Corps community. Register now.
---