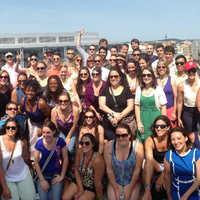 Affiliate groups are the heart of the Peace Corps community--they connect us and inspire us to create change according to the values we share. In the month of May alone, three new affiliate groups formed and another recent group (Peace Corps Community for the Support of Refugees) stepped up to invite everyone to join them in service through an open webinar.
In case you missed last night's webinar, here's a recap:
Opportunities for Service in Support of Refugees, First-hand Stories, Advice from the Field
Participants heard from experienced refugee advocates and service representatives about:
Activities that have been effective

Discussion of current needs, and

Opportunities to help.
To learn how you can add to these efforts, view the webinar recording and download the presentation slides.
The three newest affiliate groups showcase the diversity and dedication of our community:
Partnering for Peace - Friends of Peace Corps and Rotary has a mission to bring Rotary International, NPCA, and the United States Peace Corps closer together to make it easier for Rotarians, Peace Corps volunteers, and returned Peace Corps volunteers to meet and carry out Peace Corps' Three Goals and Rotary's Future Vision for humanitarian service. In fact, Peace Corps, NPCA, and Rotary have almost identical missions, values, strategic plans, programs, and projects so this group represents a powerful partnership.
Returned Peace Corps Volunteers (RPCVs) at the Department of Labor (DOL) - through the affiliate group RPCVs and Friends @ Labor - network RPCVs and former AmeriCorps volunteers with groups across the Department, improve DOL's hiring processes, volunteer in the local community, and continue the mission of the Peace Corps' Third Goal of helping Americans understand the people and cultures of the countries in which they served.
The Returned Peace Corps Volunteer Association of Utah (RPCVAU) connects returned volunteers to one another, to our local community, and to the world for continued service, outreach, and support. Their mission and goals are to (a) provide a statewide communication network of Returned Peace Corps Volunteers (RPCVs); (b) increase understanding in Utah of the peoples and cultures of developing countries where Peace Corps serves; (c) support Peace Corps and contribute to its policy making process and programs; (d) extend Peace Corps idealism and the spirit of volunteerism into local community activities; (e) inform RPCVs of opportunities in education, employment and social activities; (f) assist Peace Corps in recruitment, the volunteer in the field and returnee in reconnection; (g) assist refugees, immigrants and visitors in the same generous spirit with which we were received abroad.
NPCA's Affiliate Group Directory houses well over 160 more affiliate groups...check it out and find the one that's right for you.
---