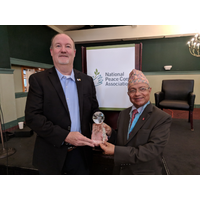 National Peace Corps Association Honors Nepali Diplomat Kul Gautam
Whose Ties to Peace Corps Volunteers Date Back to 1962
Shawnee PA (Friday August 24) -- Kul Chandra Gautam, a native of Nepal who rose from humble beginnings to become a distinguished United Nations diplomat and peace advocate, has received the highest honor bestowed to a global leader by National Peace Corps Association (NPCA).
Gautam, who currently serves as chairman of the board of the international anti-poverty non-profit RESULTS, accepted The Harris Wofford Global Citizen Award at NPCA's annual Peace Corps Connect conference on Friday August 24 in Shawnee, PA.
The annual award is named for the former U.S. Senator who was instrumental in the formation of the Peace Corps in 1961 as a special assistant to President John F. Kennedy. NPCA is the largest non-profit organization representing Returned Peace Corps Volunteers.
Born in a small village without running water or electricity, Gautam's ties to the Peace Corps date back to 1962 when he attended a school in Tansen, about a three-day walk from his home. According to his official biography, Gautam, an outstanding student, "became good friends with several U.S. Peace Corps Volunteers who were English language teachers at the school. He learned to play Scrabble with them and surprised them by often beating them – quite a feat for a Nepali 7th or 8th grader."
Recognizing Gautam's talents, Peace Corps volunteers encouraged Gautam to seek a college scholarship in the United States. Gautam eventually graduated with degrees from Dartmouth College and Princeton University and then worked for UNICEF over three decades, rising to become Deputy Executive Director of UNICEF and Assistant Secretary-General of the United Nations in the early 2000s.
After retiring from the UN, Gautam was briefly Special Advisor to the Prime Minister of Nepal on International Affairs and the Peace Process. He continues informally to advise his country's senior political and civil society leadership on the peace process, consolidation of democracy, human rights, and socio-economic development.
"I am thrilled and most grateful for this honor," said Gautam. "My experience with the Peace Corps has been a source of great inspiration for me from my early student days in Nepal and throughout my long career with the United Nations in the service of the world's poor and disadvantaged, particularly women and children. This prestigious award will further motivate me to continue to dedicate the rest of my life to pursue the core Peace Corps values of service, peace, development, human rights and global human solidarity."
In describing the award, NPCA CEO Glenn Blumhorst noted: "This award honors an outstanding global leader who grew up in a country where Peace Corps Volunteers served, whose life was influenced by the Peace Corps, and whose career contributed significantly to their nation and the world in ways that reflect shared values in human dignity and economic, social, and political development."
"Kul Gautam's connections to Peace Corps are extensive and deep, starting with his 7th grade teacher in Nepal in 1962 through his speech at the 55th anniversary of Peace Corps Nepal in 2017," the NPCA awards selection committee noted. "In the years in between, he dedicated his career to improving lives and working towards peace in all corners of the globe. We are so pleased to honor Kul, who so fully embodies all that the Harris Wofford Global Citizen Award represents."
Gautam was nominated by RPCV Doug Hall of New Hampshire. After serving in the Peace Corps in Nepal in the late 1960s, Hall first met Gautam as an undergraduate at Dartmouth College in 1971.
"I am so happy that NPCA has selected Kul Gautam for this year's Wofford award," said Hall. "Kul's long career in the UN and subsequent activity back in Nepal exemplify his dedication to global and national leadership and commitment to goals that all Peace Corps Volunteers have shared over the years: international understanding and peace. Throughout his life, he has not been hesitant to praise President Kennedy's vision in establishing the unique institution that is the US Peace Corps."
Besides serving as board chair of RESULTS, Gautam also supports several other international and national organizations, charitable foundations and public private partnerships. He is the author of "Lost in Transition: Rebuilding Nepal from the Maoist mayhem and mega earthquake" published in 2015, and his recently published memoir: "Global Citizen from Gulmi: My journey from the hills of Nepal to the halls of the United Nations".
Gautam is the winner of several other awards, including the Audrey Hepburn Humanitarian Award conferred by the US Fund for UNICEF in 2008, and Martin Luther King, Jr. Social Justice Award for Lifetime Achievement given by Dartmouth College in 2009. He is donating proceeds from his latest book and the monetary component that accompanies the Harris Wofford award to a UNICEF-assisted girls' education project in Nepal.
To learn more about NPCA, go to: www.peacecorpsconnect.org
To learn more about Kul Chandra Gautam, go to: www.kulgautam.org
(photo: Kul Gautam accepts the Wofford Global Citizen Award from NPCA President and CEO Glenn Blumhorst)
---