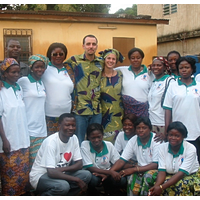 From a humble start with only a collection of plastic rental chairs to an organization providing care to 30,000 individuals, Kevin Fiori and Jenny Schechter are transforming health care in Togo. This is the inspiring story of two Returned Peace Corps Volunteers and their dedication to changing – and saving – lives. In recognition of their work, the National Peace Corps Association (NPCA) will honor Kevin and Jenny at the annual Peace Corps Connect conference on September 24 with the 2016 Sargent Shriver Award for Distinguished Humanitarian Service.
An Inspiring Story That Began in the Communities of Northern Togo
In 2003, Kevin was assigned as a health Volunteer to the Association Espoir pour Demain-Lidaw (AED-Lidaw), a small community of people living with HIV/AIDS. Kevin worked with AED to provide a treatment option for individuals suffering from HIV, reducing the infection from a terminal illness to a manageable chronic condition. Jenny joined the effort a year later, and their commitment to saving and bettering the lives of the Togolese led to the founding of Hope Through Health.
In contrast with other health organizations that depend on expatriate staff to manage and implement programs, Hope Through Health relies on locally trained community health workers as the link between patients and caregivers. The organization's work in Togo was modest at first, but Kevin and Jenny's vision led to the expansion, professionalization, and broadening of Hope Through Health's services.
"Before Kevin's arrival, three Volunteers, assigned to AED, had requested reassignment or left early, unable to conceptualize how to work with this struggling and vulnerable group," former Peace Corps Togo Country Director Mary Louise Krumm said. "Because of Kevin and Jenny's success, an assignment with Hope Through Health became coveted."
Continued Efforts in the United States
After their Peace Corps Service, Kevin and Jenny continued to grow Hope Through Health while pursuing advanced education and other employment. Kevin earned his MD while Jenny conducted various qualitative research projects, earning a MSW and MPH.
In 2012, Jenny assumed the role of Health Through Hope's Executive Director, which was a significant turning point for the organization. Kevin, currently a Chief Resident at the Children's Hospital at Montefiore in the Bronx, NY, is now Hope Through Health's Clinical Director and integrates his role into his ongoing responsibilities at Montefiore, where he conducts healthcare delivery research focused on clinical quality improvement in northern Togo.
Bettering Lives in Togo
After a decade of focus primarily on the needs of the community living with HIV/AIDS, Hope Through Health expanded its program to reinforce maternal and child health services (MCH) at some of the poorest Togolese government health centers.
"When mothers whose babies were born HIV-free started telling us that their children were falling ill because of malaria and other easily treatable conditions, we realized we needed to address their concerns," said Jenny.
Together, Kevin and Jenny expanded Hope Through Health's services to nine health centers serving over 30,000 patients in Togo. As Executive Director, Jenny has increased Hope Through Health's revenue 250% from 2012 to 2016 and manages an annual budget of over $700,000, while Kevin provides technical guidance to over 90 employees.
The success of Hope Through Health is irrefutable: within eight months of launch, the MCH program provided direct services to 1,000 women and 5,334 children under five. The program doubled its prenatal consultations and facility-based deliveries from 28% to 55%.
Hope Through Health has also seen strong results in timeliness and quality: In March 2016, 82.5% of cases were treated within 72 hours of symptom onset, while adherence to clinical protocols was measured at 96%.
Separately, 1,879 patients living with HIV are enrolled in care, with 1,120 patients receiving lifesaving antiretroviral therapy. 100% of babies have been born HIV-free through Hope Through Health's prevention program, an impressive rate in one of the world's poorest countries.
"An Inspiration To Us All"
Kevin and Jenny, now married with two children, have championed Peace Corps ideals through Hope Through Health in remarkable ways. Their successful efforts in bettering the lives of thousands of people in Togo display the value and potential of every Peace Corps Volunteer.
"They have transformed their Peace Corps project into a highly effective health care delivery organization," Krumm praised.
"For 12 years I have observed with wonder and admiration as Kevin and Jenny completed their schooling, married, and began raising two lovely baby boys without compromising their promise to the people of northern Togo. They are an inspiration to us all."
Kevin and Jenny's impressive work abroad makes the Peace Corps community very proud, and has earned them the 2016 Sargent Shriver Award for Distinguished Humanitarian Service.
The Sargent Shriver Award for Distinguished Humanitarian Service is awarded annually by the National Peace Corps Association to Returned Peace Corps Volunteers who continue to make a sustained and distinguished contribution to humanitarian causes at home or abroad or are innovative social entrepreneurs who will bring about significant long-term change. The award honors the tremendous contributions of the first Peace Corps Director, Sargent Shriver, in founding and developing Peace Corps. The award will be presented at the NPCA's Peace Corps Connect conference in Washington, DC on September 24.
Learn more and register for Peace Corps Connect.
---