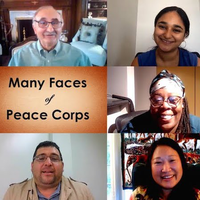 Stories and reflections of eight Volunteers: The challenges that come with Peace Corps service when you're a person of color, low income, or identify as LGBTQIA+. And the richness of the relationships forged in communities around the world.
The Museum of the Peace Corps Experience and the Returned Peace Corps Volunteer Oral History Project are pleased to share "Many Faces of Peace Corps: 60th Anniversary" video.
The 19-minute video features personal stories and reflections of eight Returned Peace Corps Volunteers who identify as members of under-represented populations in the United States. The stories, gleaned from extended oral history interviews, shed light on challenges faced by Volunteers of color, as well as low-income and LGBTQIA+ Volunteers serving throughout the world. Volunteers candidly discuss improvements needed in Peace Corps operations going forward. And they underscore numerous benefits of cross-cultural relationships among individuals and communities at home and abroad.
In the weeks ahead, watch this space for a discussion guide to accompany the video. The guide will offer National Peace Corps Association (NPCA) members and affiliate groups a resource to prompt discussion of issues relating to diversity, equity, and inclusion in Peace Corps — and beyond.
Recommendations for addressing these and other challenges confronting Peace Corps are included in "Peace Corps Connect to the Future: A Community Report on How to Reimagine, Reshape, and Retool the Peace Corps for a Changed World."
Tell Your Story
The RPCV Oral History Project invites all returned and evacuated Volunteers and Peace Corps staff to share their unique Peace Corps experiences. To date, close to 1,000 oral histories spanning 60 years of service have been recorded and archived since July 2020 at the Louie B. Nunn Center for Oral History at the University of Kentucky, and from 1999 to 2019 at the John F. Kennedy Presidential Library and Museum under the National Archives and Records Administration.
Any RPCV interested in being interviewed for the collection may complete this form or use the form at Peace Corps Oral History website. The team will schedule a virtual oral history interview an experienced RPCV interviewer.
Questions?
RPCV Oral History Project: oralhistoryproject@peacecorpsconnect.org
Museum of the Peace Corps Experience: contactus@peacecorpsmuseum.org
---