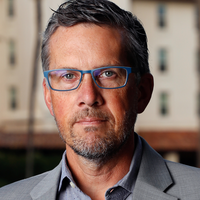 Steven Boyd Saum came on board as editor of WorldView in January 2020. For more than two decades he has edited award-winning magazines in the San Francisco Bay Area, earning national recognition for writing, design, photography, illustration, and overall excellence. His journalism, essays, and fiction have appeared in Orion, The Believer, Creative Nonfiction, The Kenyon Review, Christian Science Monitor, on KQED FM, and other magazines and newspapers in the U.S. and internationally.
Steven is a native of the Chicago area and has lived on both U.S. coasts and in the South, with a good part of the 1990s spent in Central and Eastern Europe—starting with his Peace Corps service in Ukraine (1994-1996) as an assistant professor at Lesya Ukrainka East European National University. He also hosted a radio show and directed the Fulbright program and other academic exchanges for the U.S. Embassy in Kyiv. He has lived and worked in the Czech Republic, and he serves as a consular officer for the Czech Honorary Consulate General in San Francisco and Silicon Valley. He has served on the board of the Northern California Peace Corps Association, appeared on panels representing returned Volunteers, and regularly serves as an election observer with the OSCE.
Steven studied English and philosophy at Emory University and writing at Johns Hopkins. He speaks Russian, Ukrainian, Czech, German, and some Slovak. He was a three-time champion on Jeopardy! and has it on good authority that hieroglyphics is not a language. You can reach him at steven@peacecorpsconnect.org.
---