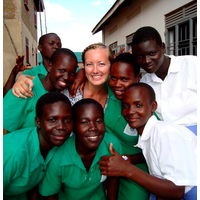 I am Sandi Giver and I know firsthand how vital a support network is for individuals who have experienced injustices.
I am a data point along a data set of others who were sexually assaulted while serving our country as a Peace Corps Volunteer. RPCV survivors like myself face the typical challenges of readjustment after service such as finding employment, housing, and next steps. Combine that with additional challenges such as physical or mental health issues, ongoing legal cases, feelings of isolation or difficulty connecting with others. Life at times can seem very overwhelming and as if in a constant crisis mode.
Thankfully, it doesn't have to stay that way. As RPCVs, we have a rich community that can provide a network of resources and support to RPCV survivors as they continue their healing journey.
For myself, I was able to connect with individuals I had met during medevac to help with some basic needs: an RPCV Benin friend provided a place to stay for a month; an RPCV therapist was able to connect me to an individual who had a part time contract job that worked around my legal case and other obligations; other RPCVs became my adopted family where I felt accepted and belonged.
I know firsthand the generosity and compassion that RPCVs are willing to give. Our service to others did not stop when we COS'ed- now, we need RPCVs to serve and support each other. Through conversations with fellow RPCV survivors, I realized that as a community we can do more. Oftentimes, individuals RPCV survivors interacted with were unaware of what support was needed or tangible ways they could make an impact.
As a social work graduate student, I sought out NPCA and Glenn to see if there was a more formal way I could pay forward the support I received and explore ways to get others involved. I was attracted to NPCA's goal of helping members and affiliate groups thrive, helping them fulfill their potential together.
By creating a more formal RPCV support network, we are committing to support RPCVs where they are to help them thrive. We can be the connectors to support and resources that they need.
If you are as passionate about supporting others as I am, please email advocfellow@peacecorpsconnect.org so we can see where you fit.
If you are a survivor or friend and are aware of support gaps, please provide info on what support types should be on our radar.
If you want to support RPCV survivors in a financial way, please make a financial contribution to the benevolence fund: Click Here.
As RPCVs, we have a lot to offer. Please join me and others as we commit to support our fellow RPCVs.
---