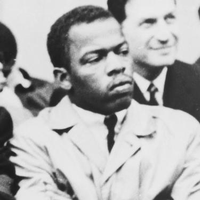 In these most challenging times for our nation, we have lost an icon in the struggle for racial justice in America.
By Jonathan Pearson
Photo of John Lewis in 1965 by Stanley Wolfson, World Telegram staff photographer / Public domain
The Peace Corps community mourns the loss of Congressman John Lewis, who died today.
As a very young man in the early 1960s, Lewis pushed the boundaries and fought against power used unjustly. He never, ever stepped away from speaking truth to power.
Martin Luther King, Jr. spoke of how the "The arc of the moral universe is long, but it bends towards justice." Indeed, John Lewis tried to hold America accountable to its proclaimed ideals; he helped our nation bend toward justice. Radical, fighter, public servant, and friend — he was a wonderful supporter of the Peace Corps. And that comes as no small surprise. In 1968, Lewis married Lillian Miles, who would become his wife of nearly half a century. Lillian was a Peace Corps Volunteer, serving for two years as a volunteer in Nigeria.
What Lewis said of another man he admired is a truth he lived: "He helped hasten the day when we will live in a world finally at peace with itself."
Just last year, Lewis spoke of those early Volunteers, of their admiration for the leadership of President John F. Kennedy and Harris Wofford, and how "the inspirational mission of the corps led hundreds and thousands of Americans to believe that they had something meaningful to share with rest of the world, while they received a deeper understanding of humanity in return." He spoke admiringly of how love, peace, and non-violence underpinned that work — "helping our world community to fulfill the vision of a Beloved Community, and he helped hasten the day when we will live in a world finally at peace with itself." That was a truth that Lewis lived as well.
We mourn the passing of a great man. And we honor his legacy through our commitment to carrying on the work of a man of peace and justice.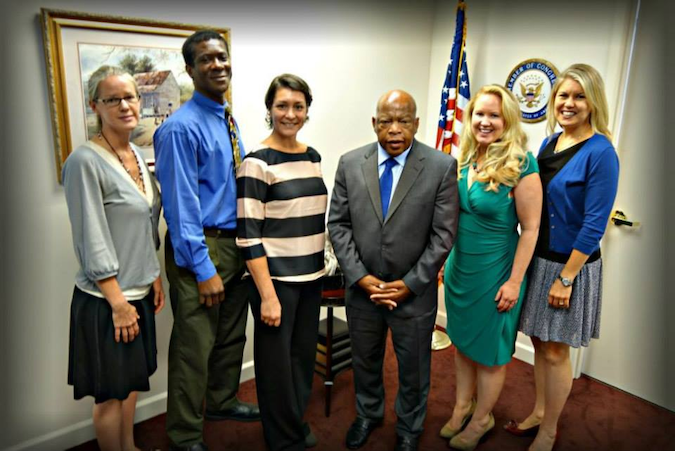 Lewis meeting with Atlanta RPCVs at his district office in 2014
---