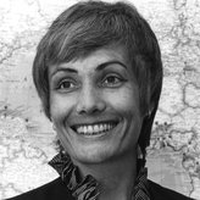 Author: Mary Ruppe Nash
My Mother's legacy at the Peace Corps was one of her proudest accomplishments. As the longest serving Director of the Peace Corps, she presided over a period of significant change and growth: the swearing in of some 23,000 volunteers, the depoliticization of the Agency, the opening of seven new country programs, a budget increase of 50 percent, an average Volunteer increase of 20 percent, the Leadership for Peace Campaign, the Africa Foods Systems Initiative, and Women in development.
Most important to our Mom throughout her eight-year tenure at the helm of the Agency was the Volunteers. She committed a third of her time to spending time with the Volunteers, visiting them in some 70 countries. I recall that prior to packing for an overseas trip, Mom would request a certain number of boxes of treats (M &Ms were always a favorite) and magazines to present to the volunteers. A frequent question she posed to her staff was, "Don't go home tonight unless you can answer the question, 'what did you do for the Volunteers today?'". She was continually amazed at what the volunteers were accomplishing, often saying that "I always wanted to be a volunteer...until I saw them in action". Fortunately, she got to witness my sister, Loret, join the Peace Corps and serve as an engineer in Nepal.
Mom recognized that peacemaking is a lifelong mission. It does not end upon a volunteer's return home. That is why this award is so special to our family. It reflects our Mother's lifelong commitment to peacemaking and urges us all, not just RPCVs, to follow in her footsteps, by continuing to serve host countries, building spirit and cooperation, and promoting service.
Mom ended many speeches in the 80s with these words:
"Peace, the beautiful five letter word we all all crave and pray for is up for grabs...A question must be answered...Is peace simply the absence of war? Or is peace the absence of the conditions that bring on way, the conditions of hunger, disease, poverty, illiteracy and despair?"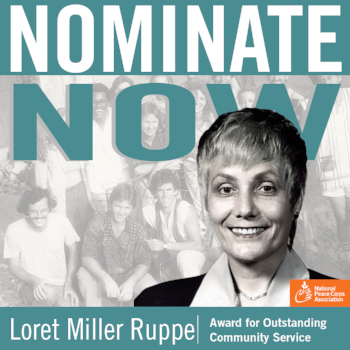 By honoring our Returned Peace Corps Volunteers with this Award in our Mother's name, we honor Mom's legacy of service and peacemaking.
The Loret Miller Ruppe Award for Outstanding Community Service is presented annually by the National Peace Corps Association to an affiliate group that actively promotes the Peace Corps Third Goal through continued service in host countries, the inspiration of group spirit and cooperation, and promotion of the values of service. Last year's award went to the First Coast Returned Peace Corps Volunteers Group.
To nominate an affiliate group for the Ruppe Award, please download the Ruppe Award nomination packet and submit all materials.
The deadline for consideration for the 2018 award has been extended to June 22, 2018.
---
About the Author
Mary Ruppe Nash, the fifth of Loret and Phil's five daughters, lives in Washington, DC with her husband, Stuart, and three teenage children, Will, Christopher and Retta. Mary is the CEO of Embassy Row Consulting, an educational counseling firm. Prior to that, she spent eight years as Assistant Director of Admissions at Stone Ridge School of the Sacred Heart.
---