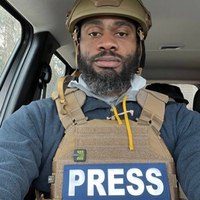 TERRELL J. STARR | Host of the "Black Diplomats" podcast
Just before Russia invaded Ukraine, Starr wrote for Foreign Policy: "This is what Ukrainians understand and progressives don't about Putin: Diplomacy doesn't mean anything if your adversary can kill you and steal your land without consequence." Starr was a Volunteer in Georgia 2003–05, had a Fulbright in Ukraine, and is a fellow with the Atlantic Council. His highly personal coverage from Ukraine has earned hundreds of thousands of followers on Twitter. Recent conversations on his podcast: Oleg Volsky, mayor of a town north of L'viv; former U.S. Ambassador to Russia Michael McFaul; and Irina Klimova, a Ukrainian woman being treated for Hodgkin's lymphoma whom he helped travel to Lithuania, where she can receive ongoing treatment.
Explore and listen: blackdiplomats.net
Follow him on Twitter at @terrelljstarr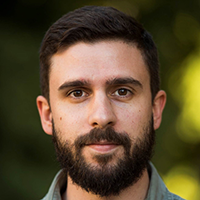 CHRISTOPHER J. MILLER | On "Pod Save the World," RFERL, and more
Miller has more than a decade's experience living and working in Ukraine, as both a Peace Corps Volunteer (2010–12) and journalist. A correspondent for BuzzFeed News through March 2022, he is now writing for Politico. He has done valuable on-the-ground reporting on the front lines of war in the Donbas for years. Hear his voice on several "Pod Save the World" and Radio Free Europe/Radio Liberty podcasts in recent weeks — on the eve of the Russian invasion, as Kyiv fell under siege, and as the war escalated.
A recent conversation: bit.ly/rferl-ukraine
Follow him on Twitter at @ChristopherJM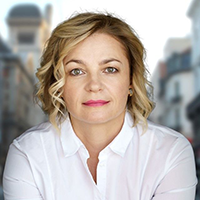 OLENA SERGEEVA | The Invasion of Ukraine: Standing with Those in Harm's Way
A conversation from the NPCA Shriver Leadership Summit in March 2022. Sergeeva's home is Kyiv; she speaks of family members in cities attacked by Russian forces and unable to flee the war. She was the first education program manager for Peace Corps Ukraine and is now a partner with consulting firm Amrop.
Watch: bit.ly/npca-olena-sergeeva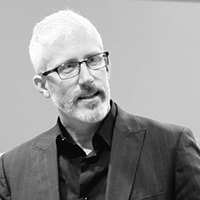 RORY FINNIN | Vladimir Putin's Abuses of History and more
"What do we see when we take modern Ukrainian nationhood seriously, on its own terms? We see a social and cultural movement with an anticolonial backbone and a suspicion of state institutions led by strongmen." In an essay in February for Politico, scholar Rory Finnin offered readers a deeper dive into the history of Ukraine. Finnin is an associate professor at the University of Cambridge and served with the Peace Corps in Ukraine 1995–97. Ignorance feeds aggression, Finnin reminds readers; he calls for us to see Ukraine for what it is: "a massive, pivotal, unique country whose people are once again at a front line of democratic freedom." On an episode of the podcast "The Gateway," he discusses Putin's abuses of history — which shape the future Putin is trying to force upon the people of Ukraine.
Listen: bit.ly/abuse-of-history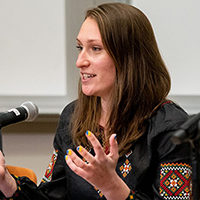 TIMOTHY SNYDER, ARNE WESTAD, and NELLIE PETLICK | War in Ukraine
The Jackson Institute for Global Affairs at Yale University hosted a panel discussion on March 4 focused on Russia's invasion of Ukraine. In conversation: historians Timothy Snyder (Bloodlands, The Road to Unfreedom) and Arne Westad (The Cold War: A World History), as well as graduate student Nellie Petlick (pictured), who brought to the conversation recent first-hand experience living in Ukraine as a Peace Corps Volunteer in the Vinnytsia region central Ukraine.
A version of this story appears in the special 2022 Books Edition of WorldView magazine.
---