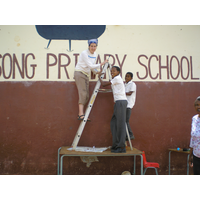 Author: RPCV Sara Jones
A few months before I left for Peace Corps in South Africa, my friend Lisa said, "Sara, you are the Peace Corps!" I beamed because I so hoped it was true. At 24, Peace Corps was exactly what I wanted to do next—to the extent it wasn't even a choice. If this was possible, I was doing it.
And expecting it to be right, it was: South Africa felt like slipping into a skin waiting for me. I needed to learn obvious things—a language, how to live without electricity and running water. But mostly I felt full from being accepted by my village, Pitsong. They taught me traditional dances, old Setswana church songs, and how to scrub clothes by hand. Whenever my host mom made my favorite beans, she knocked on my door with a plate. When bats flew inside, my nine-year-old host sister, Pinky directed me to hide under her dress for cover. It smelled like pee.
Of course I had challenges, but being so content overall, nothing undid me. At my farewell, my principal said, "Neo, you are so young," using my Setswana name. "When you're my age, you'll be everything in life."
It was exactly what I wanted to hear. And leaving South Africa, I couldn't wait to watch life continue spooling out in front of me, one meaningful experience after the next.
Not sleeping
Seven months later, in Virginia, I found myself in my grandmother's doctor's office, sitting very erect in a chair, when the doctor said, "Oh, relax"—scanning me up and down quickly from a few feet away, then rifling for something in a cabinet. I opened my mouth but there was nothing to say.
He was definitely not a therapist. He was just the only one who could see me on short notice. And he was listening to me long enough to prescribe what I'd come for—sleep medication—but he clearly didn't want to hear my whole story.
I'd been crying so much over the past month, and closed my eyes so I wouldn't cry more in front of him. Sitting there, I could remember so clearly my experience in South Africa, feeling entirely full. It just never occurred to me that once I reached that height, I was not only capable of falling, but so far down.
How had I gotten here? Shortly after Peace Corps, I got a job at an arts organization I loved. But, as it turned out, I didn't love development work. Also, before Peace Corps, I'd had one of the richest communities of my life in Seattle. Now I had three friends—two with partners—and I spent most Friday nights at home watching West Wing. Alone. I was devastated. I'd had trouble sleeping in the past when stressed, but never for so long at a stretch.
Two months after the doctor's visit, I started grad school and this rough period passed. I had a community and purpose again, and was back to feeling comfortable in my own skin. But the fearful memory of that initial nine months after Peace Corps stuck with me. Because of that memory, and because I still felt something was missing in my life for eight years after South Africa, I've gotten very interested in the post-Peace Corps transition.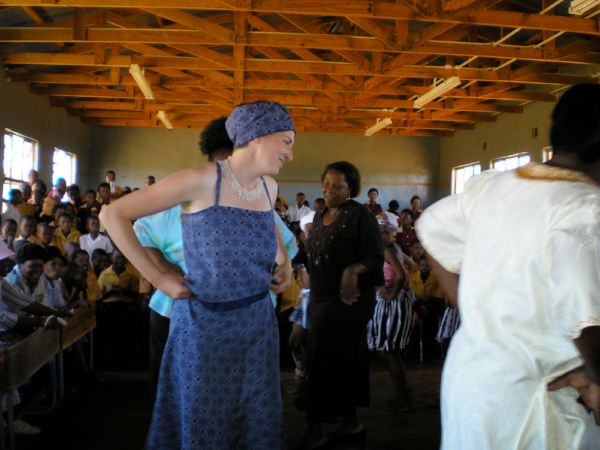 A hard act to follow
The first thing I wish I'd understood after Peace Corps was why it was such a hard act to follow. Beyond the rich cultural experience, I see now that I had a strong support system in South Africa—work, a community, housing, steady income. Plus, in my circles Peace Corps was admirable socially and a great resumé builder. So for those two years I didn't question if I was spending my time well or worry others didn't approve.
The result was Peace Corps offered me a complete package for fulfillment. Not concerned about much, I had space just to be present where I was—and open to possibilities and opportunities. In that circumstance I felt more freedom to be who I was—and grasp my potential and how alive I could feel. In short, Peace Corps helped reveal my best self to myself.
The problem was that afterward, I expected this strong self to automatically carry over into whatever I did next—and that wasn't possible initially. In fact, I needed space to determine what next step would help me keep becoming my fullest selt after Peace Corps, and I didn't know how to create that space.
Instead, I thought of life after Peace Corps as a ball I had to keep in the air. At 26, I'd succeeded in school, in relationships, in Peace Corps. I felt like a stack of meaningful experiences, and didn't want to delay starting my next one. So first, having enjoyed teaching in South Africa, I went to grad school and tried teaching for a few years. But something was missing. Next, I attended culinary school and cooked in restaurants for two years. But that still wasn't it. Finally, I tried food writing, but that also wasn't a long-term fit.
Letting go of Peace Corps
What was wrong with me? With each failed direction, I felt embarrassed, exhausted, smaller. I wasn't proud of my life anymore and pulled back from certain relationships. I'd stopped thinking about what I wanted to do, and instead just started thinking about what I thought I could do. I'd wanted to help the world. How had I ended up spending my days eating free sushi?
Instead of trying to keep my ball in the air after Peace Corps, I wish I'd gently laid it down for a bit, with a larger wisdom that appreciated the natural cycle of transitions. In his book, Transitions: Making the Most of Life's Changes, William Bridges describes the cycle of a psychological transition through nature: fall is the ending, winter is the open period when the ground clears and we make space for what's next, and spring is the new beginning.
I think my life after South Africa would have started better if I'd had the insight to lovingly, intentionally mark to myself that Peace Corps was over. Obviously Peace Corps will always be a cherished part of me, but I was no longer a PCV. This gesture of closure would have both honored my Peace Corps experience, and signaled I was ready to clear ground for something new to grow. In reality, I didn't do that for a long time and kept comparing everything I tried to Peace Corps. Of course I wasn't finding fulfillment, I see now; I was living in the past. When I finally did give myself this gentle mental ending to Peace Corps eight years later, it created enormous space—and choice. The future started to feel exciting, free, ripe with possibility.
My life now is as fulfilling as Peace Corps—and more in some ways—but I took a pretty long route, crash landing into it. I believe there's a more conscious way to do it.
About a year into food writing, I took a group coaching program for women seeking more professional fulfillment. In a values exercise, it became clear why food writing wasn't working for me—and why cooking and teaching hadn't either. During this process, coaching itself started to intrigue me. The questions we explored around who we really were and how we wanted to live had always fascinated me. I chose a certification program and the first weekend, felt more alive than I had since Peace Corps. At home afterward, I burst into tears because it was so clear. Finally, I was where I belonged.
We can get where we need to go by following many paths. I wish I'd known these things earlier to ground my transition, but we all have things we need to learn for ourselves. And while I think the post-Peace Corps transition is usually rough for most of us for a while, when we keep remembering who we are and who we want to become, we do come through it.
And who are we? Why, we're everything in life, after all.
---
Photo 1: Sara Jones gets help painting a school sign during her Peace Corps service in Pitsong, South Africa, in 2006. Photo 2: Sara Jones dances with Pitsong Primary teachers and students.
About the Author
Sara Jones served in education projects in Pitsong, South Africa, from 2004-06, and in with Peace Corps Response in East London, South Africa from 2010-11. She is now a life coach based in Seattle and helps RPCVs and other volunteers across the country build fulfilling lives after service. Learn more at LiveYourPurposeCoaching.com.
---