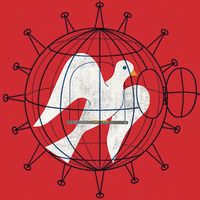 Letters, emails, Facebook posts, tweets, Instagram comments: Readers respond to the stories in words and images in our fall 2020 edition. We're happy to continue the conversation.Write us: worldview@peacecorpsconnect.org

Renew, retool, return?
I suspect the Peace Corps will see a renewal following the Biden administration. Service to our country and promoting peace, prosperity, and democracy will take on new importance. It should be a promising future for the Peace Corps.
Ben Kasper
Somalia 1964–66
I struggle to see how it is ethical to send PCVs into different countries considering that America has no control over the virus right now, a huge number of Americans have the virus, and Volunteers will likely be sent to areas that may not have the best health facilities. My concern is for the host countries and people living in the communities where the PCVs will be stationed.
Jessica Mazzoni
Zambia 2015–17
I used to pass by a plaque in the University of Michigan Student Union steps marking this spot twice a day. One day there was a sign taped to it announcing a Peace Corps recruiting session in the International Center. There were RPCVs in attendance to share their personal experiences ... and four awesome years later I was back in the same room, doing the same.
Assuming the Peace Corps survives, as I approach retirement I'm considering going back for another round.
Thomas Chamberlin
Guatemala 1982–85
I've heard about this speech for years. This is the first time I've actually heard it. Entertaining and inspiring!
John Riley
Gineau-Bissau 1997–98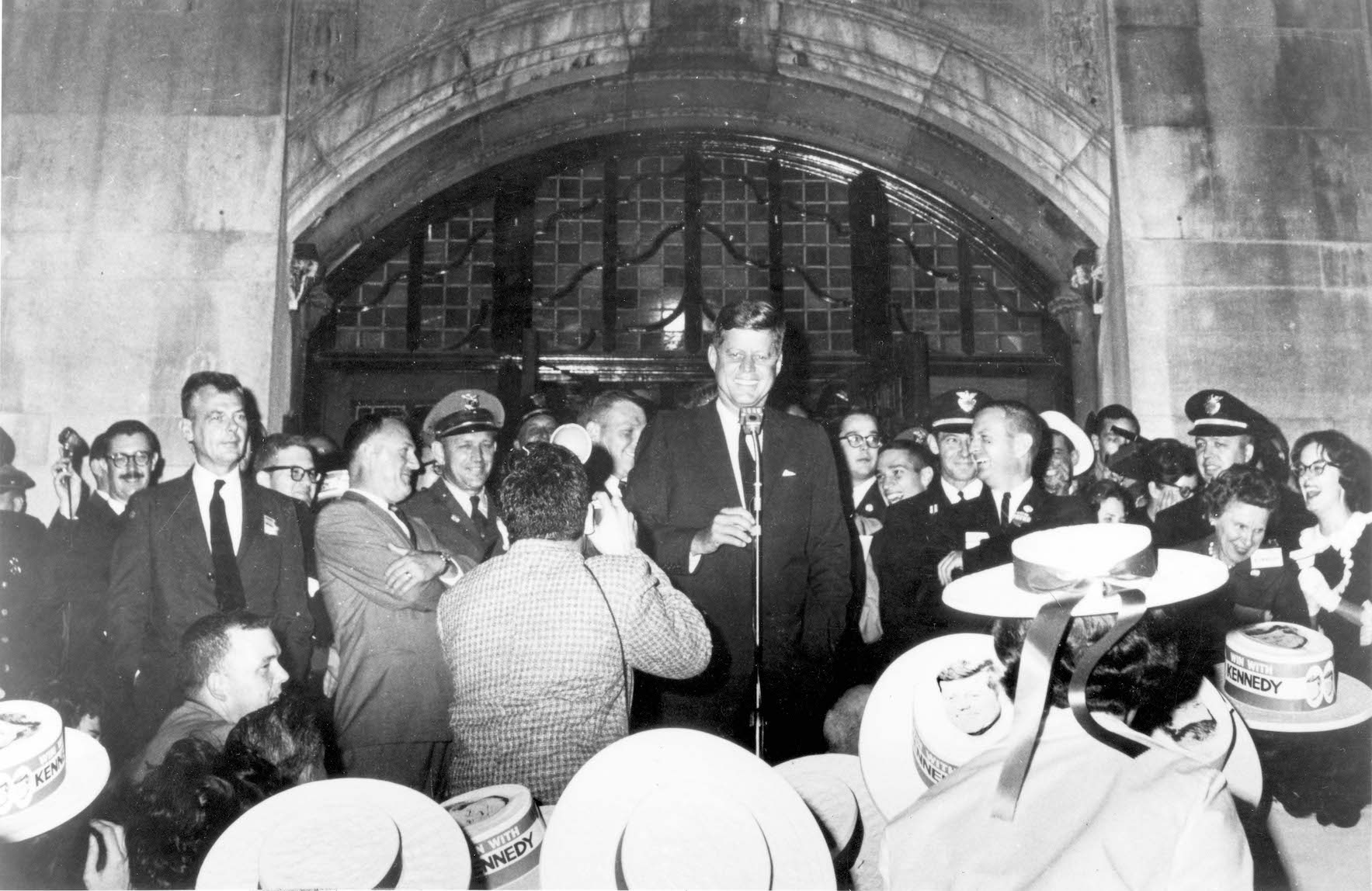 I was working in the oil fields of eastern Venezuela when Jack Kennedy was killed. It made a deep impression on me; especially moving was the reaction of the Venezuelan people who considered him as one of their own. I subsequently resigned my job, went to Washington, walked into Peace Corps and was hired on the spot to become desk officer for Venezuela. Later I was sent to Brazil as associate director. Years later I ended up as Peace Country Director in Tunisia. The Peace Corps years were rich in experience and without doubt were the most challenging and rewarding years of my life.
Charles Graham
Associate Country Director, Brazil 1966–68; Country Director, Tunisia 1981–83
I was inspired by that very speech and 20 years later served as a Volunteer in the Philippines. Over the years since then, I've given many presentations in schools on my Peace Corps experience and promoted Peace Corps service.
Catherine Saffian
The Philippines 1981
I always liked Kennedy's sense of humor … like when he said "I graduated from Harvard … the Michigan of the East" and "This is the longest short speech I ever gave."
Jeffrey Walsh
South Africa 2016–18
I am grateful for the Peace Corps services rendered to my birth country, Malaysia. I benefited much academically and personally. Diane was my maths teacher then at Penang Technical Institute in 1968. Thank you and God bless America.
Allen Ong via Facebook
I taught for two years in a beautiful country that was full of hope and progress. The people in Charikar made me feel like their daughter, their sister, their friend.
Pat Emme
Afghanistan 1965–67
Without doubt the establishment of the Peace Corps and the Fulbright Program are the most important public and international policy in the history of the United States.
Sami Jamil Jadallah
Founder and Executive Director at New Initiatives Foundation
Today I was asked by a vendor wanting to find me a discount whether I served in the military. I responded as I usually do to that question, "No, but I served my country in the Peace Corps." I think for the first time I heard from a vendor, "Thank you for your service."
Bill Francisco
Ecuador 1989–91
I joined because I thought I could make the world a better place. I came back a better person.
Marie Russo
Cameroon 1968–70

When I served in Guatemala in the 1980s it was dangerous to even teach indigenous people to read, let alone foster democratic involvement and economic and environmental justice. Well done, Mateo Paneitz.
Thomas Chamberlin
Guatemala 1982–85
Long Way Home is a great organization. Congratulations, Mateo!
Joanna Guzman
Guatemala 1986–90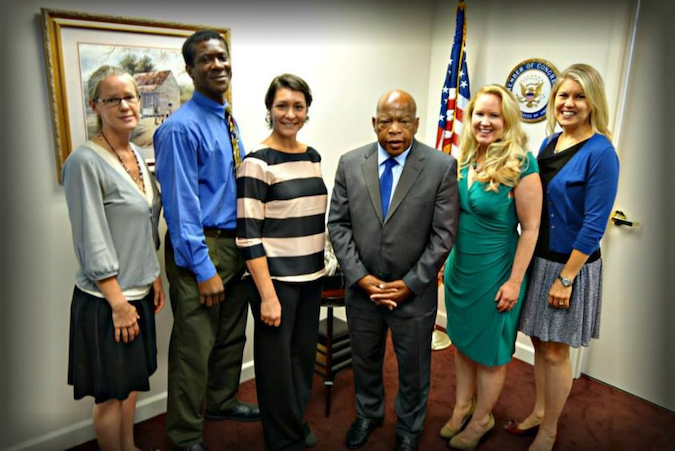 John Lewis: When I first met John Lewis, it was in the late 1970s, when I worked at ACTION, Nixon's attempt to hide JFK's agency called Peace Corps, which under ACTION became International Operations, with VISTA and other volunteer programs under Domestic Operations. He was associate director when I met him. He and his work have made the world a better place. We will miss him!
Karen Keefer
Nigeria 1966–68, Liberia 1968

May his soul rest in perfect peace.
Muhammed Touray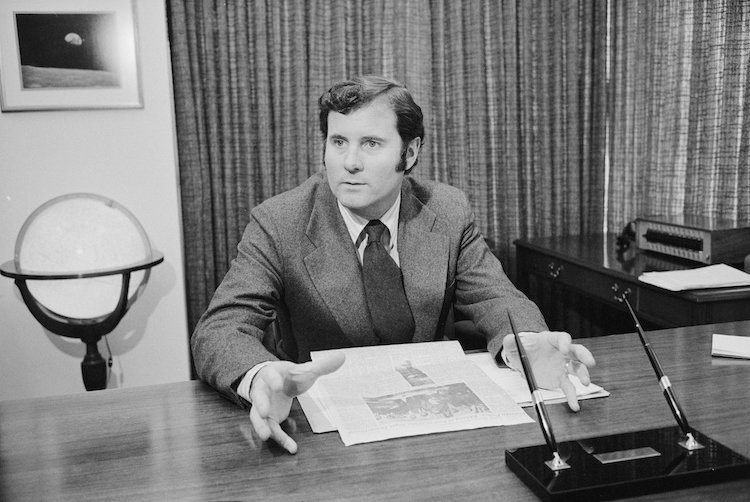 He was director when I was the training center director in Puerto Rico in 1970–72. Also a very good tennis player. Sad news that he has left us.
K. Richard Pyle
He was a good man who helped Peace Corps survive during a politically difficult period. Rest in peace.
Frank Almaguer
Staff, Belize 1974–76; Country Director, Honduras 1976–79
---