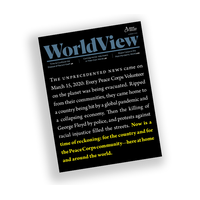 Unprecedented Times
We set aside the standard magazine playbook for our summer edition. We're happy to bring back your letters — to continue the conversation.Write us: worldview@peacecorpsconnect.org

I'm writing to congratulate and thank you for the current issue of WorldView. It's the most powerful thing in print I've seen from Peace Corps since I received my acceptance letter in 1969. Congrats to everyone involved on a mammoth job so very well done.
Stephen Barefoot
Kenya 1969–72
Most remarkable WorldView ever, both the quality of the product and the effort it took to gather and edit the stories. What we may have is the substance for a book, proceeds from which would fund NPCA services and support to returning Volunteers. Two quotes (both from the stories from China): "A lot of my students had never seen or interacted with a foreigner. For them, the experience is transformational" and, "To assume that the Chinese government and people are the same is a fallacy."
Steve Kaffen
Russia 1994–96
I wept my way through reading WorldView. The evacuation stories both broke my heart and raised my spirit. I could not help but imagine myself being torn away from my community, friends, counterparts, programs, and much more, had I had to leave Paraguay (where I served) within 24 hours. Unbearable thought for me and yet excruciatingly real for 6,892 Volunteers. Their stories were beautiful and so painful. I was buoyed up with an affirmation that Peace Corps is still making its unique contributions worldwide. Not just in the countries where Volunteers serve, but also in the Volunteers themselves. Peace Corps must survive this global pandemic. We need it now more than ever.
Congratulations on the rapid launching of your Global Reentry program. NPCA has risen to the challenges of today in so many fabulous ways. Thank you for your leadership.
Diane Wood
Paraguay 1977–81
Engaging, thoughtful, and truly remarkable — I've read it in print cover to cover, and will read it again online. This one's a keeper.
Peter de Groot
PCV Benin 1980–82
Peace Corps Trainer, Africa, 1983–92
Amazing with the stories from the country directors closing their sites. These stories bring a world of hurt thinking about what each had to go through to plan their departures, and the Volunteers having to say "goodbye."
Kenton Hawkins
Lesotho 1976–79

On behalf of our RPCV Gulf Coast Florida group: We were touched to read the heartrending stories of so many evacuated PCVs, and especially Missi Smith's eloquent lament, "I'm Tired."
For our signature project, we have dedicated ourselves to fundraising for and assisting the African American community in the heart of Sarasota called Newtown, through its grassroots organization, Newtown Alive. African American residents played a major role in the development of Sarasota. Black labor cleared snake-infested land for real estate developers, laid railroad ties, harvested celery, helped plant golf courses, and labored in the homes of Sarasota's power brokers — cooking, cleaning, and rearing children. The men and women fought for equal rights, triumphed over Jim Crow segregation, KKK intimidation, and vigilante violence. Today, a diverse group of historians, community scholars, and others have united to present the dramatic history of strivers who refused to give up. More: rpcvgcf.peacecorpsconnect.org
Leita Kaldi Davis
Senegal 1993–96
Lillian Carter Award Recipient 2017
We need to find ways to make the Peace Corps in its current form "bigger, better, bolder" and give the Third Goal more explicit attention.
Terrific — packed with timely, important news that helps put unprecedented issues impacting the Peace Corps into perspective. I hope all past and future Volunteers and staff will go through the magazine cover-to-cover. I especially like"Our Unprecedented Times," tracing momentous events and decisions which have changed not only Peace Corps but also our nation and the entire world. And Lex Rieffel's "The Peace Corps in the Post-Pandemic World," while controversial, is worth pondering. I disagree with proposals to convert the Peace Corps into something other than an independent federal agency, but I agree we need to find ways to make the Peace Corps in its current form "bigger, better, bolder" and give the Third Goal more explicit attention. We must have more conversations about the ideals, relevance, and mission of the Peace Corps in a rapidly-changing world and make sure the Peace Corps truly reflects America's diversity and has the resources it needs to get Volunteers back into the field as soon as it is safe to do so.
Michael H. Anderson
Malaysia 1968–71
Board Member, Friends of Malaysia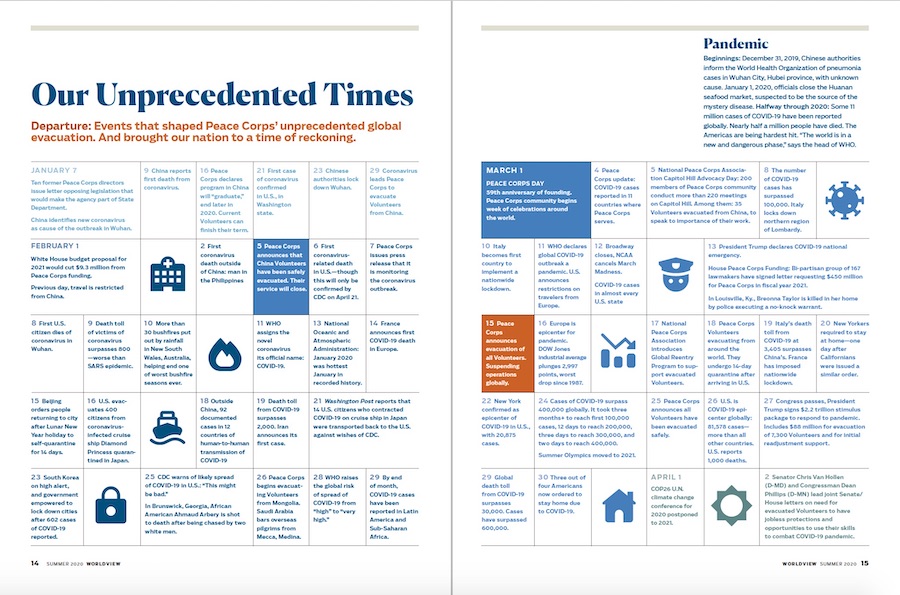 Well written and edited — a pleasure to read, though my eyes fill with tears as I learn Volunteers' stories of their emergency evacuations. That many returned Volunteers can continue to communicate with their colleagues and friends living in remote places is one benefit not afforded earlier Volunteers. Nevertheless, the bonds are immutable; after 40 years, I and a fellow RPCV returned to the sites where we trained and supervised healthcare providers and located many of them because of their long, successful careers. We only had to ask a few strangers who recognized faces in old photos. (See WorldView Spring 2018.)
I hope evacuated Volunteers are able to return to their work, if they so choose.
Beverly Hammons
Ecuador 1970–73
You managed to convey the urgency of the moment and the vast disappointment of so many.
As a longtime journalist, allow me to say that you've done a great job. The coverage of the withdrawal of Peace Corps from its posts was absolutely terrific. The text cover, a brilliant graphic touch, was only the beginning of a fascinating issue. You managed to convey the urgency of the moment and the vast disappointment of so many. These are terribly difficult times for us all, particularly painful for Peace Corps and the many new, reluctantly-made, RPCVs.
Barry Hillenbrand
Ethiopia 1963–65
Fabulous edition! I'm sending my copy off to my granddaughter, who was considering joining. Here's hoping she has the chance!!
Virginia Davis
Namibia 2007–10
Greetings from the Solomons. I am missing my WorldView mags due to no mail from the States for months. Glad to know there is an online edition. COVID19 has held up the reopening of the Peace Corps office for the Solomons this year and the bringing in of new PCVs in 2021.
Dennis McAdams
Solomon Islands 1974–78
Reading stories of the evacuated Volunteers brought back memories of my service 50 years ago in the Philippines. The agricultural school where I was assigned is now a full-fledged university. Some current students are likely to be the grandchildren of students I taught while there. Best wishes for continuing Peace Corps ideals in the future.
Steve Lahey
Philippines Group 36
Some time ago, my daughter was notified that she is on a list for training for Guinea. She is diligently working on French. I hope this pandemic can be brought under control before many more months pass; she doesn't want to miss this opportunity.
The issue of WorldView that tells the stores of the PCVs being recalled was absolutely fabulous.
Joan Landsberg
Costa Rica 1964–66
What a work by dedicated individuals! I served in the first group to go to Nyasaland (Malawi) in 1963. Thank you to those who shared, captured the info, and created this issue.
Linda Millette
Truly wonderful issue. Thanks for your hard work in writing and putting it together.
Angene Wilson
Liberia 1962–64
Fantastic! Thought provoking and meaningful, from the global evacuation to the pandemic to Black Lives Matter and the very future of the Peace Corps.
James Skelton
Ethiopia 1970–72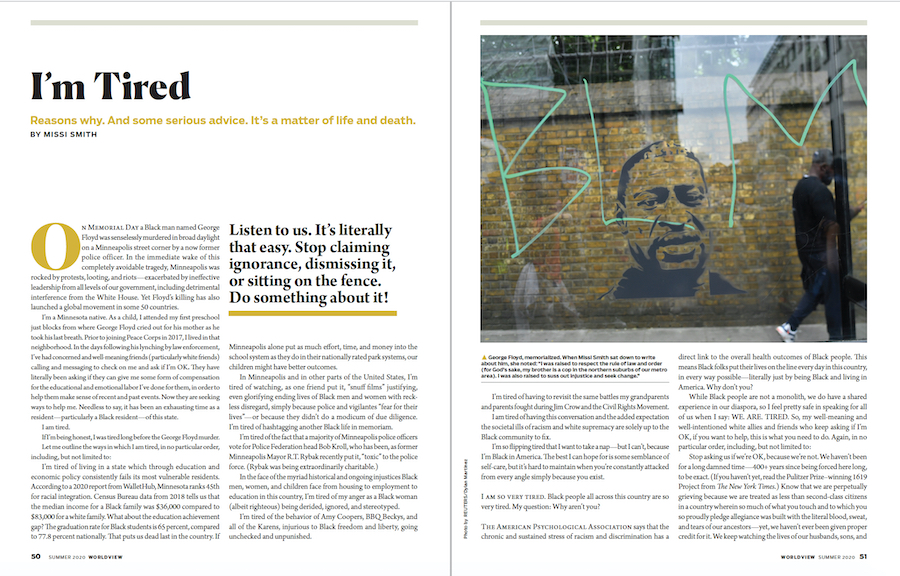 I'm Tired
Powerful and well-written, this article by Missi Smith challenges us to take action, giving us a clear list of things we can actually do to move our society toward racial equality.
Peter Szydlowski
Ecuador 1970–74, Nicaragua 1974–75
It is fabulous, and I would like to share among family and friends, to encourage some to join the Peace Corps and others to take action. Missi Smith's essay, "I'm Tired," is powerful. The statements from the PCVs who were evacuated testify to the incredible importance of the Peace Corps around the world, especially as global ambassadors. I have just now made contribution to the NPCA and will add it to my annual giving list. Keep up the good work! The return of Peace Corps to the wider world is in my prayers.
Janet Stulting
Ukraine 2011–13
It is fabulous, and I would like to share among family and friends, to encourage some to join the Peace Corps and others to take action.
I got my edition and immediately called my brother, the father of an evacuated 25-year-old volunteer from Botswana. I told him I would keep this edition as a keepsake for my nephew, saying it was historical and powerful and moving! If one can order second copies please let us know. We continue to support and pray for these Volunteers and communities!
Julie Cominos
Romania 1992–94
Indeed, we're happy to send more! Support from NPCA members and donors makes it possible for us to tell stories that matter.
—Ed.
No thanks
A few questions: What kind of a journal has no place for readers' responses — and simply takes current headlines and applies them to something entirely different? Do you really think there is systematic racism in this country and the Peace Corps is part of it?
James Eric Lane
---
Download, Read
Find all the stories mentioned here in the Summer 2020 edition of WorldView magazine. Read the entire magazine for free now in the WorldView app. Here's how: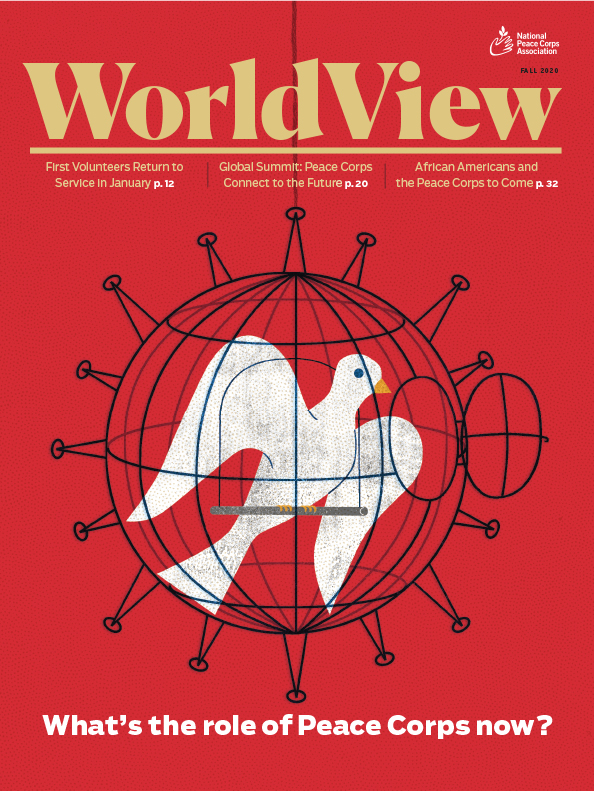 STEP 1 - Create an account: Click here and create a login name and password. Use the code DIGITAL2020 to get it free.
STEP 2 - Get the app: For viewing the magazine on a phone or tablet, go to the App Store/Google Play and search for "WorldView magazine" and download the app. Or view the magazine on a laptop/desktop here.
---